What Is Metal Stamping?
Metal stamping, in simple words, is a process of pressing a customized metal sheet against a die of customized pattern, imprint letters, or texture to create exteriors for vehicles, a form of jewelry like pendants or pieces of art.
Sheet metal and stamped parts suppliers  use sheet metal stamping and can produce desired sheet metal assemblies using aluminum, steel block, brass, copper, bronze, titanium, and nickel alloys. Some common industries that use products produced through metal stamping include automotive companies, home appliance manufacturers, telecommunications services, the lighting industry, medical equipment manufacturers, aerospace industries, military and defense, and electronics companies.
The metal stamping process is high-speed and low-cost manufacturing, generating a high volume of identical sheet metal assemblies. The metal stamping process is compatible with both long and short production units. Depending on the type of metal stamping of the sheet, the process involves the following stages:
Blanking
Bending
Punching
Drawing
Embossing
Piercing
Curling
The metal stamping process involves modifying a sheet metal into a useful component, also known as sheet metal stamping. The sheet metal is pressed against a stamping tool, namely a die to form a desired shape from the stamping block. The sheet's force against the die can be measured in tons.
Unlike metal fabrication, metal stamping involves industrial machinery for the metal working process, as the metal sheet is deformed into a specific shape inside the machine. The sheet metal is compressed inside the machinery to give the finished product reflecting the die surface.
Studies indicate a CAGR (compound annual growth rate) of 5.2% in the global metal stamping market as its size grew from $198.45 billion to $208.79 billion from 2022 to 2023.
Metal Stamping Kit
Metal stamping kit comprises a set of equipment depending on the customization of the product shape. A typical kit would contain the below-mentioned tools.
Stamping hammer – A stamping hammer creates the desired effect easily.
Metal stamps – Metal stamps could be letters, numbers, or design stamps.
Stamping Block – A flat plate to stamp on a stable surface.
Stamping tape – Stamping tape holds metal blanks in place.
Metal blanks – Various metal blanks are used to obtain desired design.
Marker pen – Stamping blank enamel marker pen is used to mark your impressions and help the designs stand out.
Polishing cloth – When marker pens are used to enhance designs, polishing cloths are important to wipe off remnants of the pen.
History of Metal Stamping
The metal stamping process originated a hundred years ago in Germany during the 1880s. Bicycle manufacturers used the process extensively to create components like frames and handlebars. After that, the metal stamping process was further absorbed by companies in the United States and extended metal stamping for other purposes. The automobile industry used metal stamping to generate car parts after comparing the high resource cost of forged parts.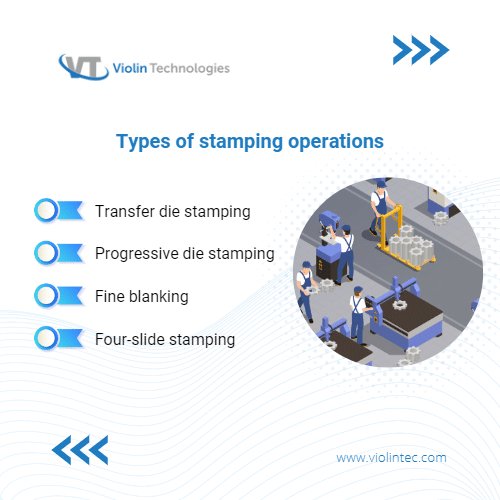 The Inner Works of Metal Stamping
Unlike other metalworking practices, metal stamping does not require heating the metal sheet and uses cold sheet metal for molding. Metal stamping is an effective and easy process to mold the shape of sheet metal. Metal stamping presses are computer-controlled (CNC), which are computer-programmed, allowing manufacturers to design the desired metal shapes. Metal stamping is the only metalworking process that yields intricate and complex metal shapes. Sheet metal and stamped parts suppliers  perform metal stamping using the following processes and tools.
Types of stamping dies
Dies used in metal stamping operations can be single-station dies or multiple-station dies.
Types of stamping presses
Various types of stamping presses include hydraulic, mechanic, and mechanical servo.
Types of stamping operations
Transfer die stamping
The Transfer die stamping runs the sheet metal through several stamping stations. Once the first stamping station extracts the metal imprint from the die surface, it is repeated from the remaining metal sheet and is transported to the next stamping station mechanically.
Progressive die stamping
This kind of stamping involves a series of stamping stations. The sheet metal fed into the stamping station collides with the die surface when the stamping machine starts moving down. Once the stamping is completed at the first die imprint, the metal sheet moves horizontally to the second stamping station. After passing through the desired stamping stations, the fabricated imprint is dissected from the remaining metal sheet at the final stage. Progressive die stamping is a highly repeatable and long-run metal stamping process, as the dies last long.
Fine blanking
Also known as fine-edge blanking, the fine-blanking metal stamping process uses a hydraulic or mechanical press or even both to produce high accuracy and smooth-edged fabrications or imprints. Fine blanking comprises three stages, clamping material on its pace, performing the blanking operation, and ejecting the final output. Fine blanking reduces the overall fabrication costs as it is a single-step process.
Four-slide stamping
Four-slide stamping involves crafting complex components. It is a four-way stamping using four sliding tools, and the metal sheet is run between these multiple slides to shape the craft. This type of stamping involves no dies, as the sheet is completely crafted with sliding tools.
How Do Violin Technologies Enhance The Metal Stamping Process?
Violin Technologies are sheet metal and stamped part suppliers with expertise in the metal stamping process involving sheet metal or coil blanks. With various sheet metal assemblies, we perform various operations using stage tools and progressive tooling on ferrous and non-ferrous sheets. We are pioneers in performing metal stamping operations such as blanking, punching, bending, embossing, piercing, etc. So, visit our service pages to learn more about our metal sheet stamping process.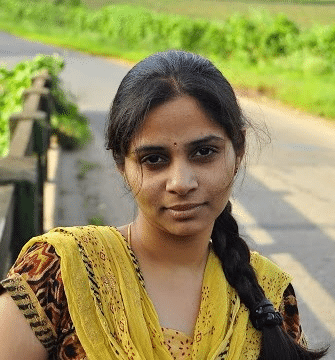 About the Author
Aparna Sushumna, a mother to a hyperactive toddler who is all over the house. I aspire to be a decent content developer. A Bachelorette of technology says my qualification but I anticipated being a singer. Thanks to the recession, I dwelled into various jobs, from coding to being a tech support executive to a help desk professional, only to conclude that there is something else I wish to do. Here I am to accomplish my profound passion for content writing. Music, nature, jewelry, beauty, mythology, life quotes, celebs, and their life, being my areas of interest.