What we cover in this blog?
Choosing the metal stamping contract manufacturer is a crucial step for the company's future. It is critical to ensure that partner you select is competent and has the necessary expertise to handle all the details during the production process. There are many important factors to consider to find the right contract manufacturer that meets all your requirements.
Go through the questions before selecting the right metal stamping contract manufacturer for your precision metal stamping project listed here in this selection:
How well established is their quality control processes?
You should ask the metal stamping contract manufacturer about quality control processes to test the quality of stamped parts. High-quality manufacturers have a special quality control department whose employees are responsible for testing products. According to International and National Industry Standards, Testing Procedures are strictly defined, which need to be implicated during the production process.
Is the manufacturer have Industry Certifications?
ISO certification for a contract manufacturer is vital. It indicates that they care about their manufacturing processes, the quality of their products, services, and solutions that they are providing to their customers. It also shows that they are committed to meeting their customer's expectations and delivering consistent good performance. Most good metal stamping contract manufacturers are ISO 9001: 2015 certified.
Is the manufacturer asking you for inputs and suggestions?
A good metal stamping manufacturer will be able to address all kinds of issues and problems that may occur between the design and the manufacturing process. They will ask many questions and take clients' input to understand better their requirements of metal stamped parts and their uses. They will also recommend better alternative approaches to design and manufacturing from their experience that will lower the total cost over the life of production.
What is the experience of the manufacturing company?
While choosing the right metal stamping manufacturer to manufacture engineering components, one needs to know the company's experience and expertise in its work. New companies won't have much experience and reputation in their line of work. On the other hand, older businesses will have a lot of experience but might not have good reviews. One needs to analyse how the company performs over a period plus how well it is doing in recent times. A good track record and excellent performance are some factors that one might consider while choosing the right contract manufacturer for a metal stamping project.
How about the quality of the service?
Metal stamper should be capable of meeting customers' demands and requirements. Good metal stamping contract manufacturers are always willing to do everything they can to reduce customers' costs without actually compromising on the quality of the product. So ask for it.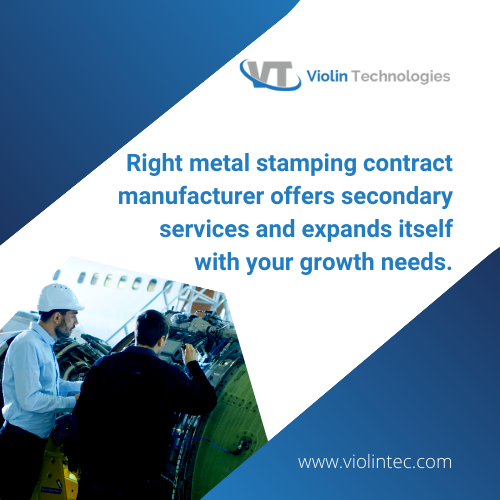 Can they do on-time delivery?
Commitment to the work and punctuality in delivering quality is the most important criteria of any metal stamping manufacturing company. Thorough verification of this line helps not to have any glitches in the future involving many stages of manufacturing and delivery.
Will the manufacturer be able to provide secondary services?
In case a need for secondary services does arise, the right metal stamping contract manufacturer will offer them, such as deburring, heat treatment, coating, light assembly, and plating, which save time and documentation.
Can the manufacturing company expand itself to growing demands?
Chosen Metal Stamping manufacturers should be able to grow and should be able to reach the rise in demand in terms of increased manufacturing capacity, use of the latest advanced technology, and so on. They must be willing to properly respond to emergencies such as time-sensitive orders. They should work together as collaborative partners rather than as clients- and customers.
Are they equipped with advanced inspection equipment?
The accuracy of die sets determines how smooth your components will be and what issues they will have later on. It also decides the quality of the part. So, while choosing a metal stamper, you must check whether they are equipped with advanced inspection equipment such as laser measurement tools to check and guarantee the accuracy of die sets. A good metal stamper always rechecks the dimensions of every die set after heat treatment and surface grinding process for error. It is done at least once or twice a year to ensure that the quality of the product is maintained.
Summing Up
Choosing the right metal stamping contract manufacturer for your project is a very long and complex process that should be executed with patience. There are a lot many factors that you must consider and evaluate before you select the right one. This will definitely help your company for a long and smooth collaboration.