Introduction
Production capabilities of contract manufacturers matter a lot when it comes to Precision Metal Stamping due to the complexity of the process. Different Precision Metal Stamping Manufacturers use different materials such as high strength materials, cold-rolled steel, draw quality steel and so on. They work with different ranges of thickness and die configurations which may be simple or complex to design. These factors determine the type of stamping press that will be used for the production process. Dimensions of coils handled by the feeding system is another important factor to look for while measuring the production capabilities of Precision Metal Stamping manufacturers.
Stamping press capacities of mechanical and hydraulic presses provides greater flexibility to choose the most appropriate equipment required for manufacturing precise and high-quality components.
Let's list down the production capabilities one should look for in Precision Metal Stamping Manufacturers to choose the right one for your project.
1. Press capacities:
It is important to know the press tonnage required to manufacture the component to avoid press fatigue and reduced downtime. On other hand, using a larger stamping press than required reduces efficiency and increases the overall cost of the production. Therefore, it is essential to predict the component's press tonnage requirements. Along with that, it is also important to know the peak load and energy requirements to manufacture the component to avoid damage to the press frame, bushings, ram and so on.
2.Part Thickness and Tolerances Capabilities:
Precision Metal Stamping manufacturers should have the capability to meet tight tolerance requirements and provide long-lasting durability. Sheet metal comes in a wide range of thicknesses from thin sheets like leaf or foil to much thicker plate steel and structural steel. The usual range of thickness of sheet metal lies between 0.16 mm to the maximum thickness of 0.56 mm. Thickness above 0.5 inches is above gauge scale.
Industry tolerances on Stamped parts and components are usually ±0.010 and ±0.005, which are dependent on the thickness of the material. Thinner materials can achieve tolerances up to ±0.0005.
A highly accurate stamping press is capable of manufacturing precision components for materials with a thickness of 0.15- 3.5mm with tight tolerances of 0.01-0.015 mm.
3.Certifications and Industry Standards:
Precision metal stamping manufacturers must strive to deliver quality products to their customers according to international standards. There are several precision quality control metal stamping certifications such as AS9100D 2016 Certification, ISO 9001:2015 Certification, ISO 13485:2016 Certification that you must look for in contract manufacturer to ensure that the quality of your products meets the industry standards.
4.Quality of Materials Used:
Materials used in the precision metal stamping process are of very high-quality ranging from metals to non-metals and alloys such as Aluminium, Brass, Copper, Carbon Steel and so on. In addition to that, any material can be used on-demand to meet strict requirements.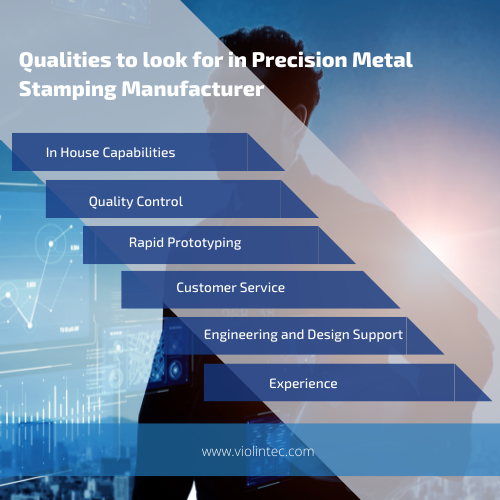 Qualities to look for in Precision Metal Stamping Manufacturer:
In House Capabilities:

In-house capabilities of a contract manufacturer is very crucial when it comes to the precision metal stamping process. Precision metal

stamping manufacturers

must have advanced tooling capabilities such as wire EDM machines, CNC machining and other stamping capabilities such as blanking, piercing, bending and so on.

Quality Control

An intensive Quality control system must be there to ensure close tolerance precision of each stamped product. Quality control processes must adhere to one of the international quality standards.

Rapid Prototyping:

In product development, the Prototyping phase is very important as it verifies the product design. Rapid prototyping allows the manufacturer to remove flaws and overcome potential challenges associated with the product within strict timelines to move on to full-scale production. It helps keep businesses ahead of market demands.

Customer Service:

They must have friendly, focused and dedicated customer support to keep you involved throughout the entire production process and ensure that you are completely satisfied with the results. Will they address your issues and questions, responds to your needs and keep you updated with the process?

Engineering and Design Support

The contract manufacturer must provide optimised engineering and design support throughout the entire design to delivery process. The engineering and design team must be trained and equipped with the industry's latest designing software and tools such as CAD. Product design and development should be cost-effective from a manufacturing perspective.

Experience:

Precision Metal Stamping Dies: The contract manufacturer must have expertise and experience in designing high quality dies with maximum life which optimises the life cycle cost of stamped components. With experience, they will also know how to achieve high quality and efficiency in the manufacturing process and will be skilled at addressing unpredicted stamping issues.
In conclusion
You should look for all these production capabilities and qualities in precision metal stamping
contract manufacturers
before choosing the best one out of the list for your project.