Since 2020, as more and more customers have flocked to online buying techniques, customers' shopping behaviors have changed drastically. The eCommerce industry had a massive explosion, and businesses were forced to expand their supply chain management operations to keep up with the demand surge.
However, the critical operational issue that skyrocketed with the increased online shopping and subsequent consumer habits was managing the returns process, which logistics providers, retailers, and supply chain executives must pay attention to. So, what happens if those products are to be returned for many reasons? And this is where Reverse Logistics (or Returns Management) comes into the picture.
Violin Technologies offers Reverse Logistics Support in the form of analytics, reporting, record keeping, demos, and Return Merchandise Authorization (RMA).
What Is Reverse Logistics?
Reverse logistics operations refer to procedures that reverse the finished products or raw materials from end customers back to the distributor or manufacturer.
Some examples of Reverse logistics are
Return of products by customers
Return of unsold items by distributors as per contract norms
Refurbishment of products
Repairs and maintenance under warranty terms
Recycling or getting rid of old products
When Is Reverse Logistics Used?
For instance, if you run a clothing store, your forward logistics may involve arranging for goods delivery from the factory to the customer's house.
However, suppose the customer decides to return or exchange your product. In that case, Reverse logistics can dictate how the goods are moved from the customer (or potential customer) back to you after the customer makes a return request. After that, a series of operations must be smoothly coordinated to process the return, issue the customer credit or refund, and then ethically resale, reuse, or discard the goods.
Benefits Of Reverse Logistics
An effective Reverse logistics strategy can significantly affect a company's ability to recover its assets and is a means of establishing an effective reverse supply chain. Listed below are a few factors that make reverse logistics so important to business:
Creates value: Reverse logistics solutions offer the potential to keep a company's worth. Repurposing products that might otherwise go to trash allows you to create unanticipated cash streams, thereby increasing the overall revenue.
Reduce costs: You may cut costs for marketing, administration, disposal, tech support, repairs, and quality assurance by putting the right vendor and systems in place.Violin Technologies is the best Sourcing and Vendor Consolidation partner that extends your supply chain team from vendor sourcing to supply management.
Customer retention: Research shows, in Reverse logistics, customer experience is the primary pain point. If a customer has a good return experience, they are more inclined to make another purchase from the retailer. So, one can gain customer loyalty with their return experience by offering customers free return shipping and full refunds.
Improved sustainability: Recycling and reusing old items is better for the environment. If you provide customers the option to return items, you can use your industry knowledge to ensure that they are disposed of sustainably. And this has reputational advantages because some customers will only purchase from companies that promote sustainability.
Gain insights: You can make wise strategic choices by considering the number of things being returned, which particular items are frequently sent back, and which clients return the most. If specific products are constantly breaking, you might make them more robust or change their design.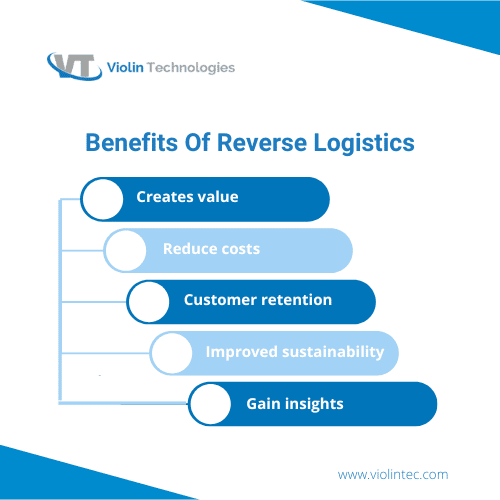 How To Optimize Reverse Logistics For Efficiency?
You may scale and optimize reverse logistics, shorten the time to resell, and raise customer satisfaction by following these steps:
Digitize returns and reverse logistics process: There is a reason why supply networks are getting digital. Many companies invest millions of dollars in support centers each year. These losses can be significantly decreased by digitizing and automating the first stages of the reverse logistics processes. From a retailer's website or app or by clicking a link in a delivery message, customers should be able to plan returns, request returns, and receive print barcodes.
Increase drop density by adding on-demand reverse logistics to planned reverse logistics: Just like logistics providers optimize dispatching and routing to deliver more with fewer drivers on each run, the company can similarly manage reverse orders and returns. With the help of appropriate dispatching software, the company can include ad-hoc return orders in a planned delivery run. And this allows the provider or retailer to ship the order to a sorting center for little or no additional expense.
Use a Driver App to manage failed delivery attempts, damaged goods, and compliance: If a delivery attempt fails, the same application used for managing delivery flows should allow the delivery driver to input information, including the cause for a failed delivery attempt. As a result, processing the order in the sorting and distribution centers farther down the flow will be simpler.
Sync the logistics provider's order number and the retailer's order number: Utilize logistics software that enables one to scan an order and then link it to order numbers from various internal systems. As a result, the chain of custody will be strengthened across the reverse process, making it simpler to sort the product once it enters the sorting facility or returns to a shop.
Connect your reverse logistics, forward logistics, and (IMS) inventory management systems: Ideally, the company should coordinate the supply chain with other supporting systems. So, integrating your IMS, point of sale (POS), and warehouse management (WMS) systems with your logistics operations and transportation management systems (TMS) will be helpful. By doing this, the reverse inventory will be visible across the supply chain as soon as it is scanned in the sorting center, and it will be simpler to decide where the products should be transferred for resale.
Returns processing and data analytics: When returned items arrive at the warehouse, they should be scanned by a system that instantly connects each item with its previous delivery order, identifying from which warehouse or shop it originated. And for this, you'll need complete insight into a few data points, such as store inventory, fleet costs, availability, shelf life, etc., into both the operations (forward/traditional logistics process and reverse logistics). Hence, proper order inventory management and data reporting at each node in the entire supply chain will result in lower losses and a quicker time to resale for returns.
Run Your Reverse Logistics Process Smoothly Through Violin Technologies
Violin Technologies, the best Sourcing EC Vendor Consolidation partner, aims to provide the right supplier. It has a specific area where the demo and RMA items are maintained and managed. It also maintains and controls inventory for future replacements so that supply chain managers can improve their reverse logistics services, reduce financial loss, improve shipment effectiveness, and boost customer retention. So, contact our experts immediately and allow us to assist you.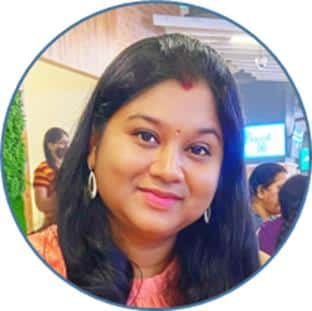 About the Author
Bishnupriya Pradhan hails from the serene hill station in Odisha, Koraput. As a Veterinary Science and Animal Husbandry graduate, she has served as a Veterinary Assistant Surgeon for the Government of Odisha and also worked as a Research Associate in Bharat Biotech's RCC Laboratories, Hyderabad. Researching and writing on diverse topics has always been her passion. She chose to be a content writer to exercise her writing skills and creativity and produce a quality write-up that can reach scores of online readers.