What we cover in this blog?
Engineering staffing agencies have become extremely important for businesses that deal with engineering services because they reduce the need to manage hundreds of applications. Numerous people are applying for the same post, and firms need more time to review many applications. So, it is wiser to use an engineering staffing firm to effectively handle the entire process while maintaining candidates' engineering talent pools.
Additionally, as staffing firms are more ingrained in the engineering talent ecosystem, they can provide better resources and procedures for hiring the best-qualified candidates of engineering backgrounds for certain open positions. Also, when discussing salary and perks with candidates, they are impartial. So, let us know why hiring an engineering staffing agency is the best choice.
How Do I Choose The Best Recruitment Agency?
The main goal of recruitment or an engineering staffing agency is to identify the engineering professionals that best fit your needs, freeing you to do your job without interruption. But how do you choose the best one for your company? Here are 5 qualities that a top-tier engineering recruiter company must possess.
1. Core specialization
The majority of engineering positions require specific training and experience. In this regard, you should only choose a staffing agency that matches your requirements with the appropriate engineers. And the engineering staffing industry must comprehensively understand your requirements from the outset.
Therefore, you are responsible for providing a thorough and up-to-date job description containing details about your desired expertise, educational engineering background, and experience.
2. Evaluate your agency's track records
The business you work with should have a proven track record of quality and prosperous placements. Asking for a list of references from an agency before working with them can enable you to assess whether they have a history of successful placements.
So, scheduling a meeting with the engineering staffing agency in person or over the phone is always a good idea. Also, conduct an interview to review the company's past placements to understand how they interact with clients.
3. Evaluate the cost of services and contracts
Even though expenses are crucial to every business, selecting an agency just because they are the least expensive might be a costly mistake in the long term.
Be aware of anyone in the staffing agency who offers terms that are significantly out of the ordinary because there is a considerable probability that they will take more time while looking for temporary employees, which could lead to receiving unqualified individuals.
So, obtain a copy of a temp staffing agency's "certificate of insurance," also known as the COI, if you use them for a temporary contract, contract to direct, or contract-to-hire services.
4. Verify how the agency screen candidates
Are the resumes you're obtaining reliable? Does the recruiting firm thoroughly interview the engineers, check references from the last 2-3 managers, confirm employment dates, rehire eligibility, skill set, workplace attitude, interpersonal skills, corporate culture, and overall position knowledge?
Asking these questions will help you find recruiters that appreciate the right job and the prospects it presents to you, as opposed to one that only does minimal or no screening and clicks "submit a resume."
5. Service excellence
A dedicated staffing organization will ensure the applicants they send to your business are valuable. They must frequently check in with your management or HR group to verify whether the applicants meet your performance standards.
Additionally, you should confirm that a staffing provider is transparent in processes and compliance, observing deadlines and promises and resolving complaints promptly.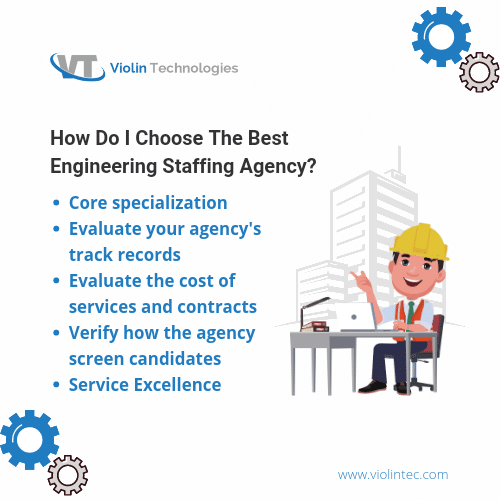 What Makes A Good Staffing Agency?
Undoubtedly, most of those staffing firms will assert that they "are different." But are they any different from the countless other possibilities that hiring managers have? Let's discuss the top 5 characteristics distinguishing a staffing agency from the competition.
1. A top staffing agency will have strong connections throughout the industry. It will interview thousands of potential employers and have a unique way of understanding who is actively seeking a job search, where they are most suitable, and how they can help the right company. Although no staffing company can succeed 100% of the time, this relationship-based recruitment approach consistently produces the best engineers.
2. The top-notch recruiting specialists will fully know their clients' hiring needs and procedures. They won't speculate. They will do site assessments and inspections, learn about the various roles inside the organization and develop the particular career opportunities required to please their client. Plus, only some positions in office administration are the same, and different businesses have different cultures. Knowing this, a top staffing company ensures they fully understand each engineering talent's requirements.
3. A successful engineering staffing agency will have endured a tough time. It's almost impossible to be "excellent" right away, and even seasoned professionals who launch new businesses must deal with difficulties in the initial years as they work out the kinks. Hence, an excellent staffing agency has survived numerous market highs and lows while keeping its doors open for business.
4. A top-notch staffing company will be adequately insured and offer some warranty or guarantee on their placements. Placement needs to be adequately insured, like car purchasing, and include some replacement or guarantee if it "breaks down." When a placement doesn't work out, a competent employment firm will stick by its placements by defending its clients.
5. A good staffing agency must have a thorough, verified hiring procedure that goes above and beyond the ordinary in locating top engineers because you cannot find candidates by posting a job ad on a job board or using Google. Hence, when transitioning from excellent to great, having a great staffing agency for finding the finest individuals is essential.
Conclusion
Your chances of finding the most qualified engineering individual will increase if you use the recruiting services of the top staffing firm in your sector. For example, the engineering staffing agency from Violin Technologies controls the client interview process while ensuring team retention and full-cycle hiring.
Apart from this, Violin Technologies are electromechanical assembly manufacturers that efficiently assemble and test products. Also, being one of the best wire harness manufacturing companies, it specializes in design, engineering, prototyping, manufacturing, and test development. So, reach out to our experts and explore the services.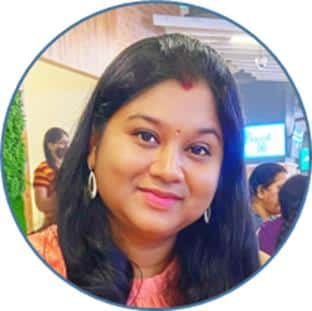 About the Author
Bishnupriya Pradhan hails from the serene hill station in Odisha, Koraput. As a Veterinary Science and Animal Husbandry graduate, she has served as a Veterinary Assistant Surgeon for the Government of Odisha and also worked as a Research Associate in Bharat Biotech's RCC Laboratories, Hyderabad. Researching and writing on diverse topics has always been her passion. She chose to be a content writer to exercise her writing skills and creativity and produce a quality write-up that can reach scores of online readers.