Over the years, the wind industry has significantly expanded across all nations, creating an increasingly complicated supply chain. Many manufacturing sites around the globe are dedicated to producing wind-related parts such as blades, towers, and generators, as well as assembling wind turbines. In reality, modern wind turbines are getting more affordable, dependable, and big enough to provide many megawatts of power.
In this particular article, we will go through the following ;
What are wire harnessing cable requirements?
List of benefits of wire harnessing
How can wire harnessing companies aid in the efficiency of wind turbines?
But before that, let us understand why wire harnessing companies are important in the wind energy supply chain?
The domestic manufacturers' productivity has increased significantly due to advancements in composite materials, automation, and more productive manufacturing techniques over the past decade. The demands for manufacturing processes and component shipping costs rise along with the size and complexity of wind turbines, which drives up the supply for local manufacturers that can handle logistical and technological issues.
As we see, cable assemblies are required for a wide range of energy-related applications, including wind energy, solar energy, and industrial equipment required for petrochemical and fuel storage facilities.
The material and quality of these cable assemblies can significantly influence how well equipment performs. The wire assemblies used in wind turbines, for instance, must be able to withstand things like severe flexing and lightning strikes.
The selection of the material for the cable assembly is crucial; popular options include sturdy materials like galvanized steel and stainless steel that resist corrosion. Stainless steel is usually employed for cable assemblies that must withstand the weather, like those used in wind turbines.
What are wire harnessing cable requirements?
Wind turbines require several cable assemblies that transmit electricity and data between the functioning parts of the turbine and the cables that connect the generated power from the turbine to the power grid. These cables typically consist of:
Aluminum Control Cables with Low Voltage
Retractable Medium Voltage Cables
Fibre-optic Cables
Sensor Cables
Loop Cables
These cables provide signals and power between the nacelle's control boxes and the turbine's major parts, such as the sensors, motors, and blades. These components, in turn, monitor operational parameters and regulate variables like the blades' yaw, azimuth, and pitch, which affect power production. Additionally, cables are required to link a wind farm's power lines, remote command center, and control tower. Because turbines must resist all types of weather and be remotely monitored and operated, these cables must be rack-mounted to withstand:
Ultraviolet rays
Abrasion
High Temperatures
Chemical and oil are consumed by the mechanical components of the turbine.
Torque/flexing caused by the wind and mechanical turbine alignment
Turbines utilize simple copper or aluminum alloy conductor materials to generate electricity. Fiber optic and ethernet cables are essential for communication and data transfer—these need to be adequately safeguarded from the dangers mentioned earlier. Various jacketing alternatives are available for usage in turbine cable assemblies, including thermoset polymers, heat shrink tubing, SPGF spiral bindings and self-sealing sleeves.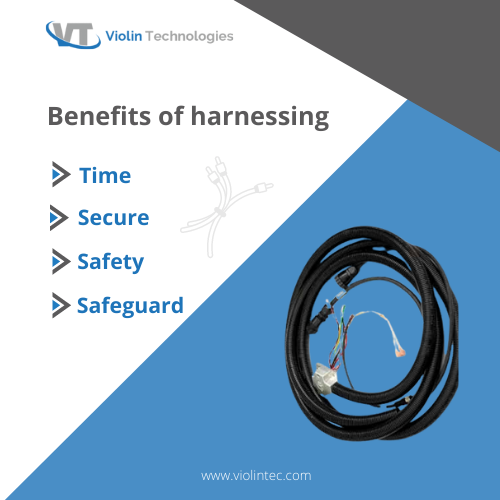 List of benefits of wire harnessing
Wire harnesses would not be so commonly employed if they didn't offer significant advantages for wiring applications. Wiring harnesses have the following benefits for businesses, among others:
Minimizes the time needed to implement projects involving large networks of wire or cabling
Creates a secure working environment by organizing weak or dispersed cables, making the most available space, and reducing trips and wire & cable damage.
Reduces the possibility of electrical fires or shorts, which improves safety.
Safeguards conductors from exposure to chemicals and moisture indoors or in the environment outdoors.
Reduces considerable amount of time and resources needed compared to multiple standalone cable assemblies.
How can wire harnessing companies aid in the efficiency of wind turbines?
Given wind supply chain providers' obstacles and technological advancements, cable assembly connection possibilities are continually changing. The wire harnessing companies construct a single cable with several wires and the right connections in place of separate cables for each purpose, which will:
Move and control a power turbine.
Transmit data from turbines sensors to centralized monitoring sites
Obtain communications and orders from the central control location.
Choosing the appropriate connection is crucial for an effective wind turbine movement depending on the layout of the turbine. Push-pull connections and color labelling are usually designed to simplify installation and troubleshooting. Lifecycle and maintenance expenses enter the equation when wind turbine manufacturers look past the initial cost of the equipment. Wire harnessing companies may help wind power by assuring original cable design or high-quality replacement cables by providing durability and ease of installation and maintenance.
Conclusion
The best wire harness manufacturers must meet all the preceding requirements and offer their customers top-notch goods and services across all global sectors. To avoid problems and misunderstandings later on, the whole process between consumers and businesses must be honest regarding production procedures.
Violin Technologies offers wire harnessing services to manufacturers of wind turbines whose technology may provide an endless supply of renewable natural resources with little need for upkeep and high economic worth. We can provide replacement harnesses or create customized cables for your new turbine project.
Violin Technologies is an ISO 9001:2015 company with factories located in Chennai, India, and a warehouse in Wooddale, Illinois, USA. We provide end-to-end manufacturing/ supply chain partnerships. Click here to know more about us and contact us for further information.