A wire harness sometimes called a wiring harness or a wire sheath, is an outer sheath used to protect specific kinds of electrical wires. The cables in wiring harnesses are typically protected from the environment by thermoplastic or thermoset materials. One of the best options for keeping electrical systems organized is inexpensive wire harnesses. Wire harnesses are used in various industries like automobiles, aerospace, medical equipment, manufacturing equipment, electronics, and many more.
Did you know cable and wire harness design can be challenging, even at the best times? The time and effort necessary to construct a high-quality cable or wire harness might greatly differ depending on the design option chosen. The design of the wire harnesses can be significantly customized as they are frequently created to meet unique application requirements. A wire harness design is created based on the geometric and electrical specifications of the machinery. Depending on the situation, they can fit into electrical boxes, be hidden behind walls, or accommodate other space restrictions.
A good wire harness safeguards from the impacts of scratching and vibration, and it helps make the most productive usage of space accessible by packaging the wires together, so they don't sag. With expertise in design, engineering, test development, prototyping, and production, Violin Technologies is a full-service contract manufacturer of wire harnesses and cable assemblies. The engineering knowledge at Violin Technologies can help you determine the wire, connection, and other parts needed for an assembly.
The Advantages Of A Good Wire Harness Design
A well-built wire harness won't break down or need to be replaced and helps to lengthen the lifespan of your electronic gadget.
Assembles all wires in one location for simple monitoring, access, and upkeep.
It acts as a support structure when linking digital components to one another or other components.
Reduces the amount of wire space needed.
Establishes an organized, orderly working atmosphere.
A proper design checks whether the harness design and the electricity manufacturing process work hand-in-hand for robust protection.
Steps Involved In The Manufacturing Process Of The Wire Harness
The cable and wire harness is one of the most important electrical components. The steps involved in manufacturing are as follows:
Design: It's crucial you first attempt to complete the design. Wire harness design is one of the most important steps involved in the manufacturing process.
Prototyping: Prototyping means implementing the design ideas from paper to digital. It helps to see what improvements you want to make with the product.
Production and assembly: After the product has been prototyped or prepared digitally, it is ready for production and assembly.
Testing: Once the production is completed, each wire harness undergoes testing to check its quality.
Factors To Consider When Designing A Wiring Harness
There are many factors influencing the wiring harness design; some are mentioned below:
Environmental factors: The wiring harness's design is determined by several factors. However, the environment in which it is used should be given most priority.
For instance, some harnesses, such as those that run close to an engine or exhaust, are subjected to extremely high temperatures. On the other hand, other harnesses may be exposed to substances like water, chemicals, oil, or dirt. Exposure to abrasion is a different environmental aspect, so the harnesses must be flexible.
Wiring harness parts: Give an exact rundown of the parts required for designing your wiring parts. In addition, guarantee your outsourcing partner has the product's part number. That permits the accomplice to supplant parts further to develop harness quality, efficiency, and price.
Length and tolerance: Be exact with the wire sizes and lengths, and consider reasonable deviations from the required length. Cut the wires according to the length and shape required.
Utilizing color and labels: Use different wire colors and labeling language to recognize the circuit names.
Outer jacketing: Different items have specific benefits and shortcomings and are utilized for different purposes. Before picking the material as a cover, consider the objective, advantages, downsides, and other additional factors.
Testing: While some designs only need a straightforward continuity test, others might call for the wire to pass a high-voltage test. Think about what is appropriate for your application.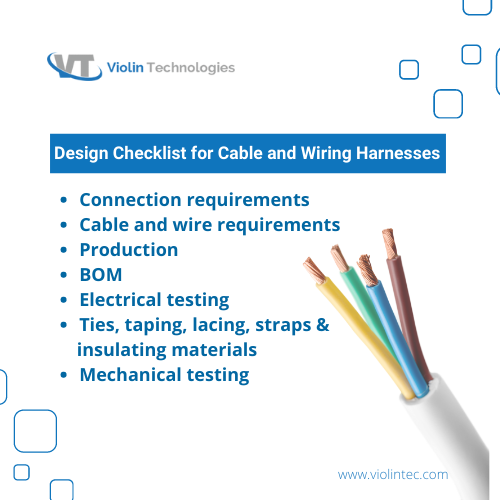 Design Checklist for Cable and Wiring Harnesses
So, here is the checklist of the requirements for the design process to ensure final products perform reliably.
Connection requirements
The type of connector required is water-sealed or open, single-use or multi-use, rugged, strain relief, labeled, and over-molding, and the kind of service required like a factory or both field and factory, and custom tool. Electrical requirements, for example, include current, voltage, frequency, grounding, signal integrity, shielding, termination, and signal or power interference.
Cable and wire requirements
The important cable and wire requirements include length and tolerance, shielding, wire end properties, flexibility, plated copper wire, insulating material, labeling, strain relief, abrasion resistance, voltage ratings, routing allowances, wear and tear resistance, bend radius, bend cycles. Maintain useful standards.
Production
The production stage involves the process of wire cutting, sourcing materials, pricing situations, twisting wires, lead preparation, cleanliness, color, waste management, quality management, and safety.
BOM
As a manufacturer, verify the end-of-life parts used, avoid custom components, align design, crimp vs. solder connections, assembly cost, complexity, packaging, and suppliers.
Electrical testing
Electrical testing comprises continuity, DWV, IR, Insertion loss, VSWR, and reflection coefficient. To determine how continuity is tested, go for single-unit testing based on volume, tracking test results, and testing all units to confirm reliable production.
Ties, taping, lacing, straps & insulating materials
The final assembly design should keep the wire bundles undamaged and in place when the unit is installed. Know how to clamp the final application. Check if the final installation will vibrate the cables' contact points. Use cable guides that control bend damage for high-twisting applications. Check if color coding is okay.
Mechanical testing
The following mechanical tests are required to ensure: crimp force and height, over-molded connectors, tensile force, torsion force, water exposure, chemical exposure, temperature exposure, bending force/cycle count, and solar exposure.
Why Violin Technologies
Violin Technologies' robust and adaptable wire harness design platform serves a variety of industry verticals, including transportation, manufacturing, consumer electronics, aerospace, defense, and aviation.
If you are looking to work with a presumed and trustworthy wire harness company in India, it implies that you should move toward Violin Technologies. It is one of the most notable cable harness manufacturers that can assist with distinguishing your choices and foster an answer unequivocally adjusted to your requirements.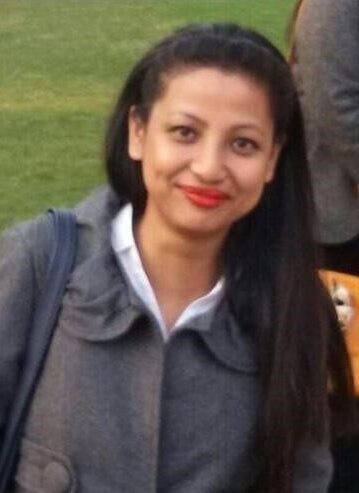 About the Author
For the last few years Daisy Das has been a Content Whisperer. She hails from the beautiful North-Eastern state of India, Assam with its own unique history and culture. What you can say, the land with the hub of rare experiences. With a Bachelor's Degree in Science & a Master's Degree in Human Resource/ Marketing, she is a highly driven individual; learning about new things is her passion. As an aspiring writer, she's always keen to explore & jots down the same in simple words. When she's not writing, she heads off to the mountains.