What we cover in this blog?
Imagine that your team has just developed a fantastic product that consumers would adore. But how will your company turn this concept from drawings and computer models into a tangible good? Either your company may need the full product, or it may only require manufacturing a few specific components.
Not every business or company has the tools, time, or ability to manufacture goods efficiently. Many prefer to outsource their manufacturing operations to a company that can offer various benefits like greater quality, faster turn-around times, better scalability, and more effective production runs. This outsourcing is called Contract Manufacturing.
Now, let's go through in detail what Contract Manufacturing is, how to choose the right Contract Manufacturer and how they attain sustainability goals.
What Is Contract Manufacturing?
Contract manufacturing is when a hiring firm makes a deal with the contract manufacturer to build specific components or full products for the company according to the company's specifications over a specific timeframe. After that, the company uses the manufactured goods to complete its products or use them in the manufacturing process.
Businesses in supply chains typically use a Contract Manufacturer in their manufacturing sector. It is a standard procedure in several sectors, including semiconductors, automotive, industrial production, agricultural machinery and equipment, food handling, consumer goods, aerospace, defense, and energy.
How To Choose The Right Contract Manufacturer?
For any business, a reliable contract manufacturer can offer a variety of advantages, including cost savings, increased output, strengthened quality control, risk reduction, and more effective resource management.
However, selecting the right contract manufacturing partner may seem difficult. The following steps will give you the information and guidance to begin your search and select contract manufacturers that best fit your product.
ISO 9001 Certification

For every organization, ISO 9001 certification is a valued credential. Hiring a contract manufacturer with an ISO 9001: 2015 certification ensures quick delivery of high-quality goods and services that satisfy their customers and any applicable legal and regulatory requirements.

Facilities

To ensure quality and prevent product mistreatment and damage, the contract manufacturer's facilities (such as the manufacturing floor and warehouses) must be organized, spotless, and properly kept to promote worker productivity and safety. To achieve this, the manufacturer must use the 5S principle (Sort, Set in Order, Shine, Standardize, Sustain).

Scalability

The contract manufacturing partner should be able to scale operations whether or not you anticipate growth. You never know when a surge in demand will occur, so if that's the reason you're using contract manufacturers, you need to be sure your supplier can handle it.

Reputation

A reputable manufacturing partner is more committed to producing the highest-quality product to uphold and expand its image as a trusted supplier. Looking for favorable reviews online at sources like the Better Company Bureau and Google's business ratings can uncover a portfolio of previous projects.

Experience

While overall quality and customer happiness are crucial, you should also consider the manufacturer's team's experience and how much they have worked with the specific materials and parts you want.

Communication

Communication is essential when starting a relationship with a contract manufacturer. It would be helpful to look into how well they communicate because the entire process depends on their conversations.

Location

The feasibility of your contract manufacturer will also depend on where they are located; the farther away they are, the more expensive shipping can be. A local facility can also simplify in-person meetings and let you take a tour when necessary.

Personnel

The heads of departments like project management, engineering, manufacturing, compliance, and buying will be your primary lines of contact. But don't forget about the floor workers, even though their backgrounds and skills are crucial. Inquire about certification requirements, monitoring procedures, and training processes.

Equipment and Technology

The capabilities of your supplier will be significantly influenced by equipment. Ask about the kind of equipment that is available and make sure it can hold the components and resources you require.

Miscellaneous

Consider other factors such as the design process, documentation practices, financial stability of the company, and regulatory experience.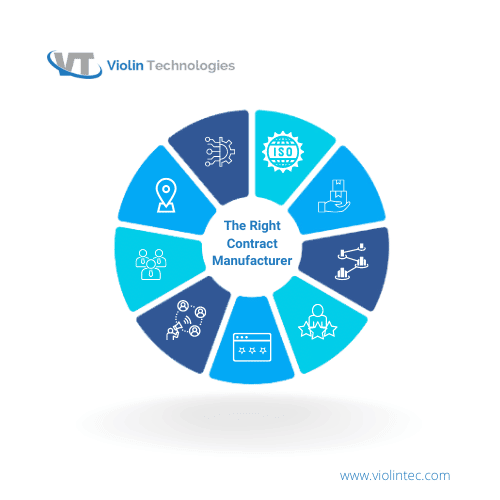 What Makes A Good Contract Manufacturer?
A reputable contract manufacturer reputable contract manufacturer complies with all the requirements and provides the promised services. However, the additional elements that make a good contract manufacturer are the one who:
Can transcend beyond being a supplier in the supply chain.
Act as brand evangelists and handle your goods as if they were their own.
They are meticulous with their operations and supply chain management, both quality and money.
Offer advice and insight to help the business improve its product designs for production, customer happiness, and the timely completion of assembly projects.
Keeps his facility clean and hygienic, and sensitive products, like electronic circuits, are produced in an environment free of dust and other contaminants.
Promises timely delivery of your products.
Maintain the firm's internal standards at least on par with international standards, if not superior.
Must offer a variety of sustainable practices through important supply chain alliances.
Let us learn how contract manufacturers can attain Sustainable Development Goals (SDGs).
Best Contract Manufacturer and Supply Chain Sustainability Goals
While conventional supply chain management aims at the efficiency, cost, and dependability of operations, sustainable supply chain management adds the objectives of sustaining social and environmental values such as solving global problems like climate change, deforestation, fair labor practices, waste management, and water security.
Hence, Contract Manufacturing companies can have the most impact by changing their supply chain rather than altering other company operations. Let us learn how?
By analyzing sustainability metrics in their SCMs, contract manufacturers can monitor multifaceted programs such as prioritizing renewable energy, recycling products and materials, or promoting greater social responsibility among suppliers.
Companies can prevent unnecessary product shipping by employing intelligence and pre-established regulations. For instance, they can ensure that products are dispatched from the distribution center nearest to the customer rather than one located across the country.
In supply chains that are data-driven, businesses can use supply chain execution platforms that are cloud-based, which offer detailed analytics and may even collect data from equipment sensors and other Internet of Things (IoT) devices. This way, businesses can identify, implement, and track sustainable growth initiatives with greater operational visibility.
Conclusion
Violin Technologies offers several sustainable alternatives if you're interested in sustainably creating a custom-fabricated part or component. We are your full-service custom cable manufacturers and supply chain partner. Among our key competencies are box builds manufacturers, electromechanical assemblies, assemblies for cables and wires, precise-machined components, stamped components, and sheet metal assemblies. Do contact us for your upcoming project.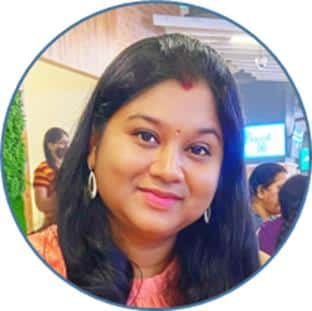 About the Author
Bishnupriya Pradhan hails from the serene hill station in Odisha, Koraput. As a Veterinary Science and Animal Husbandry graduate, she has served as a Veterinary Assistant Surgeon for the Government of Odisha and also worked as a Research Associate in Bharat Biotech's RCC Laboratories, Hyderabad. Researching and writing on diverse topics has always been her passion. She chose to be a content writer to exercise her writing skills and creativity and produce a quality write-up that can reach scores of online readers.