What we cover in this blog?
Numerous factors influence the supplier validation process in both industrial and commercial business sectors. One option is working with various vendors and controlling the supply chain yourself. Alternatively, you may also decide on a contract manufacturer and outsource supply chain management to them. Each business is unique. However, there is no perfect solution to know which one is best for your business. Your solution will be determined by your annual production, turnover, and other requirements.
Selecting the vendors must be deliberate and is heavily centered on how the relationship will benefit the manufacturers in the long- and short-term.
Contract manufacturers are frequently chosen after they prove they can deliver on the pricing and product promises. Of course, both are crucial, but do the value they contribute go far enough to help your supply chain? That's a matter to look upon.
A strategic supplier relationship is important and should be maintained in every business concern because strategic supplier management refers to a buyer's intentional efforts to establish vendors or CM with a long-term beneficial relationship. The primary characteristics that set a CM (Contract Manufacturer) apart from a vendor are as follows:
Perceptive Approach:
Working with a Contract Manufacturer(CM) and the vendor has very distinct business cases. The CM takes a comprehensive approach to the project and is much more interested in the company's broader aims and goals. The CM will often provide you with supplementary services like supply chain management, design for manufacturing and assembly (DFMA), and others. If a CM working on your project can help you create a product from various unique components and subassemblies, then this CM is a good fit for your company.
Typically, a vendor only works on a tiny portion of the total product being produced. They might only supply that one component, and the component may also be a very minute aftermarket component. A vendor would be your best choice if you wanted to sell retail products. You can also consider your product's complexity to make a decision swiftly.
Collaboration:
There are also differences between working with a vendor and a CM, which also relies on your company's organizational structure. If you are working directly with a CM, they will take on the role of project manager, and they will serve as an outsourcing partner between you and a collection of suppliers. As a result, maintaining good contact with your CM becomes essential.
Consequently, a vendor can provide you with knowledge in a single product category. If you are in need of a customized product, then your vendor manufacturing customized products should provide you with the best result.
Sustainability:
Every business in the supply chain will experience changes, whether it be an organizational restructuring or a personnel shift. A proven, comprehensive data system with all necessary control measures will be available from your contract manufacturing partner. By doing so, the partner can be sure that his business data will remain accurate regardless of organizational changes and that the project may proceed.
On the other hand, while vendors have some drawbacks, for the most part, the disadvantages fall behind them. They can hardly assist companies in reducing expenses, accelerating manufacturing, and growing their business. No matter what product you produce, chances are less for you to find a reliable vendor to reduce some production burdens.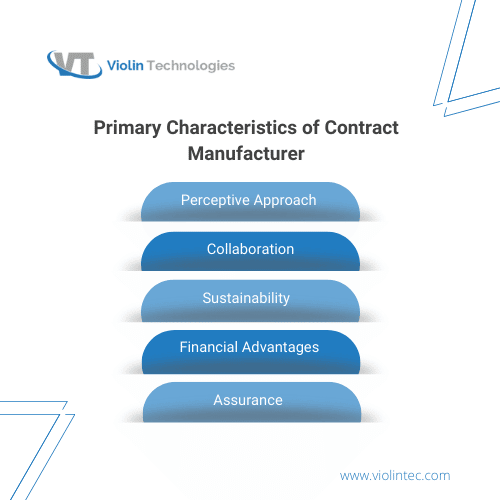 Financial Advantages:
Does the contractor regard your project as their own and, consequently, your money as their own? A valuable contract manufacturing partner constantly evaluates materials, designs, and processes to identify and implement better, more affordable ways of doing things. Continual product and process review, from design through validation and acting as good distributors, will be a top priority for a great partner. A CM will also have tie-ups with suppliers, which they may use to get better lead times, pricing, and payment terms.
Although vendors have many benefits, certain drawbacks need to be considered. Even if you raise your order quantity when working with a vendor, you won't often receive price cuts on your per-unit cost since a variety of other expenses, such as shipping, labor, quality assurance, and profitability, are always taken into account in addition to the material prices. Additionally, some firms may feel uneasy about providing a third party, such as a vendor, access to their financial information. If you're doubtful of the vendor's capacity to meet your particular requirements, you may not want them to be in charge of your inventory.
Assurance:
Two firms or a business partnership may enter into a contract valid for several years. A Contract manufacturing partner gives the producer the security or assurance of continuously getting business orders until the last contract expiry date. This assurance and security are not usually seen in business dealings with vendors. Hence it is said that the risk of business assurance is high in case of business concerns using vendors to fulfill the supply chain.
Selecting contract manufacturers carefully to optimize relationships rather than just fulfilling basic needs is a strategic and wise business move. Violin Technologies has a strong commitment to a common goal of success and helping industry experts and clients acquire knowledge on the latest marketing trends. Check out our other blogs on contract manufacturing to fulfill all your professional needs.