Contract manufacturing in the medical sector refers to the outsourcing of the production of medical equipment.
The equipment is manufactured following the Original Equipment Manufacturing (OEM) company's specifications and ISO:13485 and Food And Drug Administration (FDA) regulations.
The use of contract manufacturers by medical device industries to carry out routine manufacturing tasks has many advantages, including reduced manufacturing costs, a more streamlined supply chain, and improved logistics.
Although the definition of contract manufacturing for medical devices can be quite broad, there are a few quality indicators
Establishing a production plan
Assembling the devices
Shipping containers
Examples of value-added services are:
Validation of package bundles
Certifying sterility and performing subsequent processing
Finding areas for improvement in a process
In this article, we shall discuss – Attributes that differentiate and define the medical devices, benefits of outsourcing to a contract manufacturer and vital key points for choosing medical device contract manufacturers.
The Medical Device
The Food and Drug Administration (FDA) characterizes a medical device using specific criteria.
The below specifications determines whether or not your product is a medical device which is defined as: "A device, equipment, implementation, machine, instrument, implant, in vitro reagent, or another similar or related field that is:"
Intended for use in the analysis of disease or other medical conditions, or in the cure, mitigation, treatment, or prevention of disease, in man or other animals.
Intended to cause a change in the structure or any function of the body of man or other animals.
The definition of "device" does not include software functions excluded by section 520(o).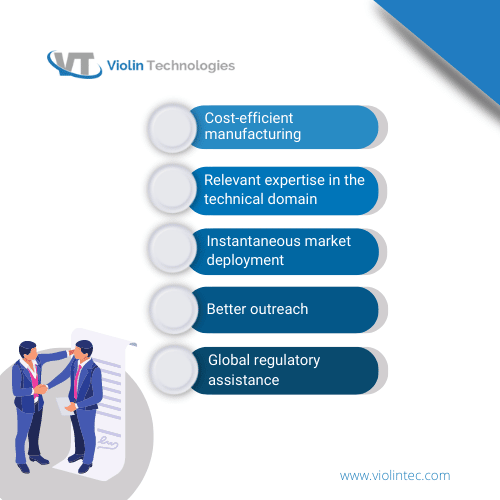 Merits Of Partnering With A Medical Device Contract Manufacturer
The advantages of outsourcing to a contract manufacturer are manifold, as it provides both financial benefits and clinical experience.
The following are some of the advantages you inherit when working with the best contract manufacturer:
Cost-efficient manufacturing
Relevant expertise in the technical domain
Instantaneous market deployment
Better outreach
Global regulatory assistance
1.Cost-Efficient Manufacturing
Contract Manufacturers have the expertise to optimize costs on multiple fronts. You save on costs associated with procurement, resources, capabilities, and machinery.
Cost optimized on the manufacturing end can be allocated to other important segments, such as marketing and branding, ultimately determining your Return on Investment (ROI).
2.Relevant Expertise In The Technical Domain
Contract Manufacturers work on various projects, providing them with a broad assortment of skills and experience. By partnering with the right contract manufacturer, you procure expertise across multiple market segments that you can use to upscale the project.
3.Instantaneous Market Deployment
It is crucial to select a contract manufacturer with effective regulatory compliance. With FDA and ISO: 13485 certified manufacturing and step-by-step documentation, the trust regarding the equipment in the market is never compromised.
When you partner with a Medical Equipment Contract Manufacturer from multiple domains, you gain access to immense benefits. You obtain numerous networks that you can utilize to expand the geographic reach of your product across various geographies.
5.Global Regulatory Assistance
The contract manufacturer with extensive experience can assist you in bringing your product to global markets. The CM works with multiple clients in various geographies and can guide you on taking your product to various global markets with relevant accreditations.
Partnering With The Medical Device Manufacturers
Outsourcing a medical device contract manufacturer can significantly impact your company and the end customer. In this article, we have made a four-point checklist to use while searching for a reliable manufacturing partner. These key points will teach you how to ask the right questions to find an ideal manufacturing partner who can put your brand name on products without compromising the quality, experience, or resources.
1.Does the manufacturer have market expertise?
When outsourcing a partner, it is essential to ensure that the contract manufacturer (CM) has experience in your particular niche. This experience will aid the CM in meeting regulatory standards, completing all necessary filings, and choosing the appropriate components for the current project. Additionally, an experienced partner will know how to expand the production process as the production volume increases.
2.Does the contract manufacturing business have a robust quality management system (FDA registered, ISO 13485 certified)?
We must understand that our reputation is tied to the quality system provided by the contract manufacturer, so you should never undervalue this aspect during the selection process. Even minor deviations from FDA regulations or ISO (International Organization for Standardization) quality standards can result in the rejection of an entire production run or an investigation by regulatory bodies.
In addition, a strong quality assurance (QA) capability can be a positive marketing factor because it gives customers confidence in your product's quality.
Hence, consider the following;
If the CM has received warning letters or letters of violation from the FDA.
Has the FDA ever denied the approval of a product for noncompliance?
What is the history of foreign suppliers' compliance with FDA regulations?
Are the ISO practices certified and current?
3.Does the CM have sufficient production and engineering capacity?
Every contract manufacturer strives to maintain a high level of production line utilization and a balance between current business and new business expectations. When discussing production and engineering capacity, additional questions include:
Have they allocated space and employees for a new line?
When and where could the production of a newly customized project start?
Our production unit operations, such as sterilization, shared with other products in the facility?
What is the shared operation's capacity when other products require processing time?
If your sales forecast necessitates a quick increase in production, are the current capacity levels sufficient for a rapid expansion?
4.Who are the contracting entities?
Are you negotiating a contract with the parent company, a subsidiary, or a division?
It is crucial when there are both financial and performance guarantees associated. If you are contracting with a division or subsidiary, ensure that the contract is written so that the contract manufacturer's parent company will abide by any guarantees.
Final Takeaways
So far, we have seen that the process is likely the most distinctive aspect of developing and launching a medical device. The right medical device contract manufacturing partner should comprehend the procedure and be able to assist you in developing and navigating the roadmap from concept to launch. These include both the design and product roadmaps, as well as the regulatory roadmap.
Are you in search of the perfect medical device manufacturer? You are at the right place!
Violin Technologies can assist you with all the intricate processes. With our effective supply chain capacities and understanding of global market demands, we can assist you in entering the potential market and other industries. For further information and queries, click here to get in touch with us.