Introduction
You must have heard the saying, "More the Merrier," but when it comes to vendor consolidation, it's lesser, the better. Typically, the automobile sector has a large number of suppliers. The idea behind Vendor Consolidation is pretty simple, use fewer resources to achieve great results before automobile production comes to a lot of complex operations such as acquiring raw materials and resources required for manufacturing and other operations.
Need For Supply Management Strategy
Automobile companies acquire these resources from suppliers and vendors. They are an integral part of the supply chain. As the business grows and expands, demands for new solutions and services keep on increasing, leading to the addition of more and more vendors. And the time comes when there are so many suppliers that it becomes difficult to manage them. It boils down to a waste of money, time, and resources. In such a situation, there is an immediate need to revamp the supply management strategy of the company.
When creating a supply chain management strategy, one question always arises: whether to buy from one supplier or many? Working with more suppliers increases complexity but reduces the risk associated with working with just one supplier. Finding the balance between these two is crucial for automobile companies while creating an optimum supply management strategy. That's where vendor consolidation comes in.
What is Vendor Consolidation?
Vendor Consolidation is a supply management strategy where businesses reduce the number of vendors they work with to save time managing those relationships, increase profitability, optimize the procurement process, improve business quality, and much more. It focuses on the most successful suppliers of the supply market. Vendor Consolidation reduces purchase prices and supply chain process costs and reduces risks by decreasing the number of suppliers. The impact of the vendor consolidation strategy on the company's management is substantial. It positively impacts the company's top to the bottom line, especially in freight management, as large volumes of shipments from few suppliers can significantly reduce the shipping costs, thus improving profitability.
A common misconception about vendor consolidation is that it compromises the company's ability to negotiate service level agreements and prices with suppliers, and it is not true. With the strategic distribution of funds across a few suppliers, the business can take advantage of large-scale and volume pricing, preferential pricing, and top-class priority customer service.
How can Vendor Consolidation Partner Improve Your Production Process?
So, let's look into the benefits of Vendor consolidation and how it can help your business improve your manufacturing processes.
Cut Shipping Costs

Shipping Large volumes of shipments from a few suppliers cost considerably less than small shipments from many suppliers. It can be further reduced by choosing suppliers from nearby locations. Acquiring the price of products gets reduced, thus improving profit margin and sales profits.

Preferential Pricing on Bulk Orders

Bulk orders present an opportunity to discount prices on the products through reduced per-unit costs.

Stronger Partnerships

As there are few suppliers to manage, you can spend more time building long-lasting, strong relationships with a few core suppliers. It allows you to focus more on your core suppliers' efficiency, quality, and overall performance. Few reliable Vendor consolidation partners that can understand your business and hard work better and you can trust and rely upon up*on in the time of need are valuable.

Improved Efficiency

Companies can simplify their vendor acquisition criteria and better understand their suppliers through vendor consolidation.

Reduced Risks

Vendor consolidation reduces the risks associated with having too many suppliers. Few suppliers mean you can focus more on managing all existing supply chain risks.

Saves Time

Supplier management requires a lot of the company's valuable resources. Fewer vendors mean less time and resources spent on vendor management. Additional time could be utilized to reinforce compliance with legal policies and procedures.

Reduced Supply Process Costs

Transaction costs also get significantly reduced by narrowing the supplier base. The cost of managing supplier relationships and integrating vendors in internal management systems and transactions decreases along with the number of suppliers. It also saves time which could be used to focus on the company's growth.

Increase Purchasing Power

Purchasing power automatically increases as the supplier base decreases. It allows you to award large volume orders to a few suppliers. In return, companies can receive a better price on their orders and bulk discounts by allocating more resources to only a few suppliers. Thus, allowing companies to offer better prices and services to their customers, building a strong relationship with them. In addition, overall freight, handling costs, and others also get reduced.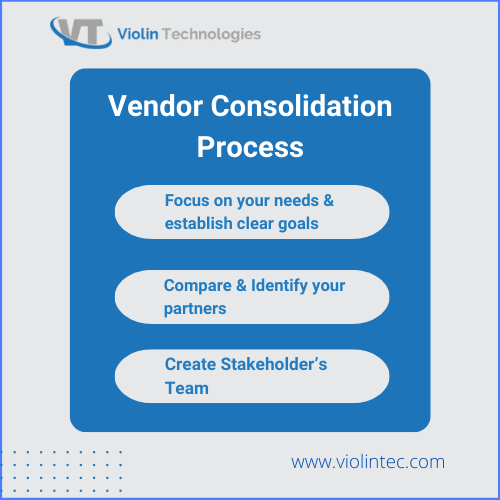 Vendor Consolidation Process
The idea behind this strategy is simple: reduce the number of suppliers by selecting the most efficient and trusted vendor consolidation partners and creating a more efficient and economical supply chain.
Step 1: Focus on Your Needs & Establish Clear Goals

Requirements and goals are most important for business. Therefore, it becomes essential to gain insight from stakeholders about their priorities and requirements when dealing with suppliers. It will help stakeholders deal directly with vendors in making clear, informed decisions while choosing vendors.

Step 2: Compare & Identify your Partners

Some suppliers and vendors offer unique services that are rare to find anywhere else. Therefore, it becomes vital to prioritize the vendors according to the company's requirements. It is also suggested to take the opinions of stakeholders regarding this.

Step 3: Create Stakeholder's Team

Stakeholders are professionals and experts whose inputs are very valuable for the smooth functioning of the company. Therefore, it makes sense to create a team of these experts and put them forward as company representatives. They would have their standards and requirements from suppliers; however, they need to come and discuss it together to finalize the list of vendors.

Step 4: Remove suppliers you don't need

The minimum number of vendors required is decided collectively through the mutual agreement of stakeholders. It's time to start the process of consolidation and set up the criteria required from a supplier, such as work ethics, on-time delivery, and so on. Discuss previous negative experiences with vendors, delays, faulty products, and bad services while selecting the criteria. And then rule out those suppliers who do not meet the selected criteria. If the team eliminates too many suppliers from the list, it's time to search for new suppliers. After the list of final vendors is finalized, put out an RFI informing suppliers on how they can meet the current requirements and standards of the company.
Wrapping up
Vendor Consolidation is a proven strategy in supply management for the automobile sector. If implemented properly, it can yield amazing results. Having suppliers' goals align with your company's goals can fast-track the growth and success of your company.
Violin Technologies is an ISO 9001:2015 company with factories located in Chennai, India, and a warehouse in Wooddale, Illinois, USA. We provide end-to-end manufacturing/ supply chain partnerships. Click here to know more about us and contact us for further information.