Finding perfect contract manufacturing companies can be a tough task to accomplish, especially when you don't know where to start. It's a big decision for companies and they should not take it lightly. It's about the partnership. The right one can help you to reach new heights whereas the wrong one can land you in a lot of trouble, frustration, and unnecessary expenses.
There are several reasons why companies may want to work with contract manufacturers. They might want to expand their capacity and produce in large volumes, but do not have the investments to do so. Small businesses and start-ups may have a product idea that they want to convert into reality with the expertise and experience of a contract manufacturer.
Why Choose Contract Manufacturing?
There are numerous reasons why businesses go for contract manufacturing. For example, it reduces production costs and allows you to focus your resources on the growth strategies for the business. It lets businesses shift the burden of production to a third party, allowing quick ramping up of production without compromising on the quality standards.
How To Choose a Perfect Manufacturing Partner: Do's & Don'ts
Conduct Feasibility Study
Evaluate whether you need a contract manufacturer or not. Weigh the pros and cons of outsourcing production to a contract manufacturer. Take all variables such as timeline, budget, legal issues, and other factors into consideration.
While shortlisting the potential candidates, you should have your list of detailed requirements. It will help you identify the vendor that matches your requirements the most. You should compare your requirements to the services offered by them.
It's a big decision that affects the company in many ways. Therefore, it becomes necessary to take time as you choose the best manufacturing partner.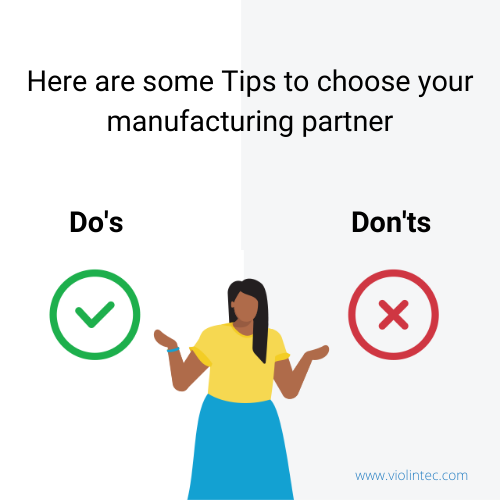 Take your time, and look for all feasible options available to you. Draw out the list of all potential manufacturers in your field.
Check Experience Level & Track Record
Experience is what everyone looks for when looking for a contract manufacturer. Every business wants to work with companies that understand their business and its unique requirements. You should look for a contract manufacturer that has years of experience in the manufacturing industry. Check their portfolio of past works. It's always a big plus if they've worked on similar projects or developed similar products. Look for common grounds in the systems and processes that you need and the experience and expertise that the external manufacturing partner has.
Check Their Production Capabilities & Capacity
Listing out capabilities, services they provide, the type of work they do, etc., should be the starting point for engaging a contract manufacturer. You should also know the work they do and the work they outsource. Also, try to measure up their production capacities to know whether they are capable in terms of physical space and storage, to handle a project of your size.
Business Operation and Processes
Every contract manufacturer has different approaches to their manufacturing and design processes. It takes time to analyze their operations and production processes and see how they match with yours. You need to see whether their processes are transparent and have got positive reviews from the existing clients. Also, you need to figure out how you are going to assess the performance of the processes.
Knowing the quality of the workforce can give a hint about the capability of the manufacturing company. For example, the qualification and experience of key professionals can give you a general idea of how they are going to handle your project. You should pay close attention to their training process, working staff, and other important people such as project manager, manufacturing lead, and so on. Also, ask whether there will be dedicated personnel for your project or will they work on other projects as well.
Latest Technology & Equipment
One of the main reasons why most contract manufacturers outsource is because they lack the equipment, technology, or staff needed to work on the projects. So, you need to look at whether the contract manufacturing company is equipped with the latest technology and equipment along with trained personnel to use them. Decide beforehand who is going to pay if the need of buying new equipment or technology arises and how much time it will take to complete the process of installing and training the staff.
It's important to know whether the contract manufacturing companies are outsourcing and to what extent. It can increase the manufacturing costs depending on whether it is done offshore or domestically. A nearby location is ideal if you want to visit the manufacturing location and overlook the processes regularly.
Check Internal Quality Standards and Regulatory Compliance
Regulatory standards and compliance are obligatory and inevitable aspects of every product development process. Therefore, it becomes important to look for their regulatory experience in the countries you plan to sell your products and services. Ask them about their compliance process and how they plan to abide by it. The best ones proactively help you in managing the regulatory filing. They will also guide you through the rapidly changing global regulations and industry standards.
Does the contract manufacturer have quality standards that match up to your requirements? Never compromise with quality for costs.
Discuss Financial Stability, Timelines, and Expectations
Disruptions in the manufacturing process can cause huge financial losses. There are many potential risk factors such as unrealistic expectations, inventory inefficiency, delays, shortfalls in raw materials, natural disaster, and much more. Worst case scenario is the contract manufacturer going out of business. Therefore, it becomes important to look into their balance sheets to know whether contract manufacturers along with their suppliers are financially stable or not. Also, discuss timelines of product development and set up realistic expectations regarding product delivery.
In conclusion
After gathering all these inputs and information about the shortlisted contract manufacturers, you will get a general idea of who suits your needs the best. It will also give you an idea of the risks associated with different contract manufacturers. Don't forget to ask your contract manufacturer to provide analytics and progress reports regularly as part of the contract.