With the invention of innovative cars, the automobile industry is fast evolving, resulting in safer and more efficient transportation. The fundamental components of this new frontier in mobility, safety, and connection are
ADAS, or Advanced Driver Assistance Systems
which include a wide range of sensors, cameras, and communication functions.
As we see, semi-autonomous vehicles have already paved their way on the roads, and completely autonomous vehicles are on their way. Current adoption rates are projected to surge in the next few years as ADAS spreads throughout automotive industries and new technologies give higher levels of safety behind the wheel.
So, you all must be curious to know how it functions efficiently.
Well, we have all the answers you need.
Let us understand its functions and how it helps achieve precise automated solutions.
How Does ADAS Function?
It is becoming more evident daily that automobiles are the core of the next generation of mobile-connected gadgets, with autonomous cars making significant progress.
Autonomous application solutions are classified into chips called SoCs (Systems on a chip). These chips use interfaces and high-performance ECUs (Electronic Controller Units) to connect sensors to actuators.
These apps and technologies are used by self-driving cars to achieve a 360-degree vision, primarily close and distant.
Therefore, it implies that hardware designers employ increasingly sophisticated process nodes to fulfill ever-increasing performance standards while simultaneously decreasing power and footprint requirements.
For a deeper understanding of ADAS, let us go through its applications and significance.
Applications Of ADAS:
The ADAS system's ultimate objective is to maintain efficient driving and ensure vehicle and driver safety.
Therefore, they are classified mainly into five safety-critical ADAS Applications
Autonomous Emergency Braking (AEB)
Pedestrian Sensing and Deflection
Lane Deviation Warnings
Traffic signs Tractability
Detection of Blind Spots
These safety-critical systems, which include the latest interface standards and run numerous vision-based algorithms to enable real-time multimedia, vision co-processing, and sensor fusion subsystems, are crucial to the success of ADAS applications.
Autonomous Emergency Braking
Autonomous Emergency Braking employs sensors to assess whether the driver is in immediate contact with another vehicle or other roadside obstacles.
This software can detect adjacent vehicles and signal the driver with safety measures.
Effectively, emergency braking systems can perform preventative safety actions such as clamping safety belts, slowing down, and adaptive steering to avert an accident.
Pedestrian Sensing And Deflection
Pedestrian sensing collects data about the vehicle's surroundings using modern vehicle sensors. It typically uses forward radar and camera image sensors, although some include LiDAR technology.
Your system's strengths and limitations will vary depending on whatever ADAS sensors your car uses for pedestrian sensing deflection.
Lane Deviation Warnings
Lane deviation warning is a system that alerts the driver, through either visual, audio, haptic warnings, or a combination of all three, to the proximity of the front road wheel to the lane boundary.
Regarding lane deviations and departure systems, drivers and advanced driver assistance manufacturing services have some responsibilities.
Drivers must understand what sort of lane assist technology their vehicle has, what to expect, and how to use it appropriately in an adverse situation.
Traffic Signs Tractability
Traffic signs tractability identifies traffic signs and sends the input to drivers through the control dashboard, audiovisual, or a heads-up display.
According to their assembly & configurations, these systems can detect stop signs, do not enter signs, and even yield signs.
Detection Of Blind Spots
Blind Spot Detection (BSD) is an advanced driver assistance system (ADAS) that effectively prevents fatalities that occur while changing lanes when a vehicle is in its "blind spot".
But how does it work?
When another vehicle enters a blind spot, BSD systems alert the driver.
Depending on your system, this might be a dashboard indicator light or side-view mirror. BSD and Blind Spot Warning (BSW) collaborate to detect risk and alert the driver via a visual or audio chime.
Some warning systems even incorporate a rumbling in the seat or steering wheel.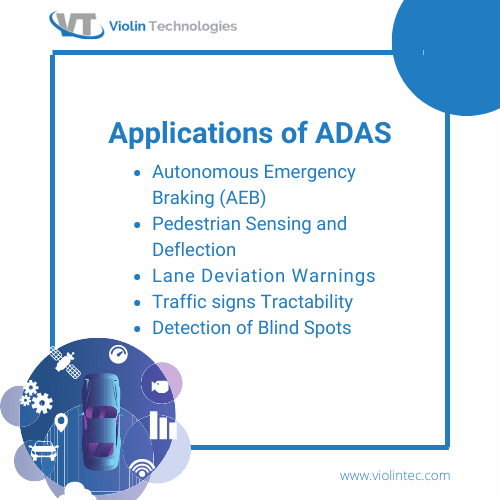 Challenges In The ADAS System
ADAS encounters few obstacles when considering the driving circumstances in numerous countries. It requires substantial road infrastructure and is not designed to function properly on all roads. The majority of local roadways have little or no lane markers.
Currently, it can be made available and seen on expressways and well-maintained roads, but as road infrastructure improves, car owners can effectively utilize ADAS to its full potential.
Here, we shall examine a handful of the various ADAS difficulties that are segregated by industry:
1. Individual Component Issues
Adverse weather conditions, haze, heavy downpours, and even sun glare can influence the camera and radar sensors, causing performance issues.
These physical conditions can impact the data received in real-time and result in unprecedented outputs.
2. Manufacturing & Supply Chain Issues
Due to ongoing rising demand for the subsystem, component shortages resulted in manufacturing issues. Since these are ubiquitous, they affect practically every ADAS component.
There is a large market limitation regarding fabrication capacity, which takes time and requires a high cost to be set up from scratch.
3. ADAS Consumer Challenges
ADAS functionality is not generally standard on automobiles and depends on consumer preferences. As more OEMs include comprehensive ADAS capabilities into their offers, keeping track of who provides what and how they provide it becomes a little harder.
Insurance service providers must determine which ADAS features are present on each vehicle to accurately set the right-price policies and manage insurance claims with a better grasp of repair costs and vehicle value.
The marketing lingo employed by Original Equipment Manufacturers (OEMs) perplexes buyers and companies who sell, insure, and service automobiles equipped with these features. Research websites, portals, and dealerships must gather all this data and deliver it to their end consumers efficiently.
Recognizing how drivers react to ADAS features is a one-of-a-kind and unanticipated scenario.
How To Overcome The ADAS Challenges?
Understanding the nature of OEM competition and detailed ADAS adoption statistics by insurers providers can help various stakeholders respond intelligently and efficiently.
While it may still be difficult to determine whether elective ADAS technology is present, many of these features are becoming standard on specific models that can be accessed on VIN (Vehicle Identification Number) lookup services.
Businesses can provide a training program that contains ADAS system capabilities (for example, various radar frequencies and how driver notifications are conveyed). This information will be beneficial for both consumer-facing products and used as internal use cases.
The transition to completely autonomous cars—vehicles that can sense their surroundings and operate without human intervention—requires an expansion in the electrical architecture of these vehicles.
The volume of data grows in tandem with the advancement of electronic architecture. The new integrated domain controllers must have the better computational capability, reduced power consumption, and smaller packaging to manage this data.
Moreover, every vehicle component must be engineered to be increasingly linked, necessitating subsystems and assembly manufacturers to broaden the scope of safety measures. Adding the latest embedded computer vision and deep learning techniques to automotive SoCs improves ADAS system accuracy, power efficiency, and performance.
Summing up, the quality and expertise is very crucial for the ADAS component assembly and manufacturing.
Introducing Violin Technologies, a pioneering leader in the Top Building Manufacturing Partner and supply chains industry.
Violin Technologies is an ISO 9001:2015 company with factories located in Chennai, India, and a warehouse in Wooddale, Illinois, USA.
For further information and queries, click here to contact us.