Today's contracts govern how businesses interact with their partners, customers, workers, and vendors. For this same reason, agreements are currently regarded as the "lifeblood" of the company.
As a result, contract management and administrative tasks need to be extremely efficient and effective. To begin with, it must guarantee that all relevant parties are satisfied with the agreements. The next step is to ensure that these contractual connections remain in place and are profitable, ensuring that the company reaps the rewards of every agreement and maximizes its financial gains.
However, to ensure compliance with the organization's standards and objectives, it's crucial to comprehend what happens at each stage. Below is all the information regarding modern contract lifecycle management, including the crucial processes.
What Is Contract Management?
Contract management, often known as contract lifecycle management (CLM) or contract administration, is the process of managing contracts between a firm and its clients, suppliers, distributors, contractors, and employees.
It entails creating contracts, negotiating and ensuring compliance with the terms and conditions of the contracts, maximizing the operational and financial performance of the contract, and adhering to deadlines and deliverables.
However, keeping track of all contracts with partners, customers, and suppliers takes time and effort. That's where contract management software steps into the picture.
What Are The 5 Stages Of A Contract?
While each business has its clear process for managing contracts and contract lifecycles, it can be divided into five essential steps.
Contract creation: A contract is frequently built on initial requests from an organization to enter into a business relationship with a supplier of products or services. This phase could involve asking for new contracts, contract renewals, an amendment, or even a termination.
Contract negotiation: During negotiations, commercial and legal terms get involved, along with many persons on both sides of the transaction. The suggested document must be examined by both parties to rule out any necessary revisions. Several terms are negotiated to guarantee that each party receives the most value possible.

Also, sometimes complex contracts negotiation are time-consuming, so preserving complete recordings of every conversation is preferred. Hence, including a legal team (lawyer) or legal department in contract management discussions is a good idea.

Contract approval and execution :The final agreement must be signed by each side, whether digitally or on paper. Depending on the risk, value, and other variables, most businesses have guidelines on who may approve each contract. And all users are informed of contract commitments to prevent problems and disputes.
Obligation management: At this point in business management, contract managers must ensure the contract is completed early to report to relevant stakeholders. Also, each party must uphold its rights and adhere to contractual obligations throughout the contract.
Reporting, auditing, and contract revisions: After the contract is in effect, the contract manufacturers will be responsible for conducting routine audits, informing executives of the success or failure of the contract's execution, and ensuring compliance with contract obligations and regulations.

Once the contract's term is over, contract managers will consider renewal or termination.
The contract manufacturers from Violin Technologies can improve the effectiveness of the contracting process and reduce risk and compliance worries.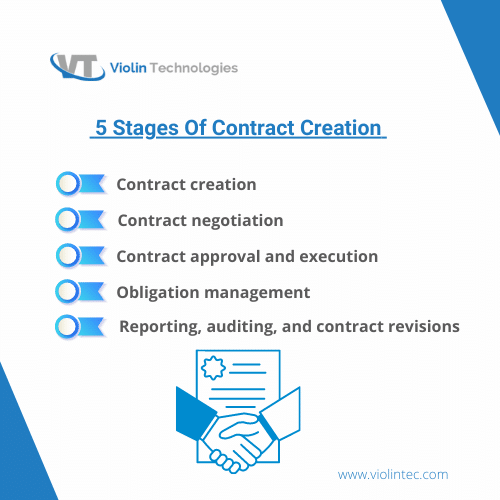 What Are The Four Components Of Contract Management?
Along with the components of a contract management system, a contract management strategy is crucial to bolster visibility and transparency throughout the entire process. Here are four fundamental components that must be present for any successful contract management:
Relationship management: Verify vendor data to confirm the other party's identity, legal status, financial aspects, and the likelihood of being on watch lists.
Performance management: Utilize contract management software to create and manage contract terms and documents, improve searching, and have a central repository for improved database security.
Establishing Governance: Record historical activities, monitor milestones, manage contract compliance, and give effective control by including notes, alerts, and other paperwork.
Contract administration: Utilizing automated solutions, keep track of changes in your partners' position regularly, spot potential dangers, and assess their financial penalties and legal standing to determine whether termination is warranted or not.
Being aware of the significance of contract manufacturers and contract management components can lead you to find the appropriate automation solution, such as Violin Technologies.
What Is Most Important In Contract Management?
When managing contracts, it's always important to consider contract manufacturers, vendor performance, and risk management. For instance, if a vendor doesn't fulfill their contractual obligations, you may need to revise the contract or impose some disciplinary measures. And that's where the benefits of contract management software come to the rescue, such as
Making monitoring and tracking performance easy: All text changes, whether internal or external, are automatically redlined and can be quickly approved or refused.
Streamlines contract approval process: The approval workflow ensures that appropriate individuals promptly approve and document the right things.
 Store all contracts in one place: Contracts and related documents can be conveniently stored in a contract repository using a CLM platform, allowing stakeholders access anywhere in the world.
Set automated contract alerts: You'll never miss an expiration date or a deliverable due date again if you set up personalized email alerts.
Integrate with your ERP: No more moving data through manual processes. The contract management software can be used alone or integrated with your ERP to sync with the user, vendor, and primary customer lists.
What Should A Contract Manager Know?
Contract administrators review each agreement the business makes and ensure it is renewed before it expires. They ensure that each party fulfills their obligations and abides by the terms and circumstances of the agreement. The following are some of the duties a contract manager should know:
Keeping close business relationships with customers and seeing to it that their needs are addressed
Meeting with clients to discuss legal and business issues
Drafting and amending a variety of customer contracts
Ensuring that every record is current and accurate
Letting interested parties know about the deal
Investigating contract-related problems, including any violations of the contract
Tracking contracts and choosing whether to renew, extend, or terminate them
Helping clients follow statutory requirements
Conclusion
As more companies see the advantages of contract management systems, they use them to increase productivity, cut costs, and reduce risk. Also, depending on where you are in the process of transforming your contract management, contract manufacturing companies like Violin Technologies offer a multitude of benefits.
Violin Technologies, the cable assemblies electrical contract manufacturing company, leads users through the contract lifecycle management process and allows them to access agreements in a single location. Additionally, it assists them in creating far less risky agreements for their firms. So, reach out to the experts and explore the services.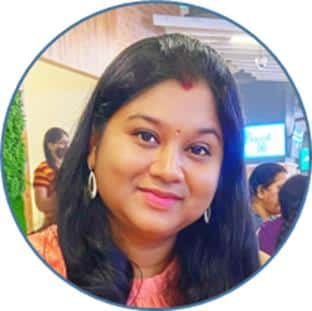 About the Author
Bishnupriya Pradhan hails from the serene hill station in Odisha, Koraput. As a Veterinary Science and Animal Husbandry graduate, she has served as a Veterinary Assistant Surgeon for the Government of Odisha and also worked as a Research Associate in Bharat Biotech's RCC Laboratories, Hyderabad. Researching and writing on diverse topics has always been her passion. She chose to be a content writer to exercise her writing skills and creativity and produce a quality write-up that can reach scores of online readers.