What we cover in this blog?
Aerospace manufacturing
produces parts for missiles, aircraft, and spacecraft. This industry is diverse, with many military, commercial, and industrial applications.
The aerospace manufacturing industry is continuously evolving, and we can expect to see a constant focus on digital innovation in 2022. The aerospace industry is occupied in the research, new developments, and additive manufacturing of flight vehicles, including unpowered gliders and sailplanes and unnerved aerial vehicles, space launch vehicles, heavier-than-aircraft, missiles, and spacecrafts.
The global space economy includes various activities related to studying and exploring space which is predicted to grow and generate over $1 trillion in income by 2040.
What Is Aerospace Technology?
Aerospace technology comprises research, production, design, operation, or maintenance of aircraft and spacecraft.
New computer systems that can be utilized to design more effective aircraft and new technologies to aid in fabricating these aircraft parts are among the most recent developments in the aerospace industry. The aerospace industry's ability to compete and advance is based on technological development, and as a result, the sector leads the globe.
In the sections below, we'll introduce you to some new trends and technology in the aerospace sector that will positively impact the aerospace industry and various sectors.
Emerging Trends In Aerospace Engineering
Developing Zero-Fuel Aircrafts
The aerospace industry is emphasizing the need to protect the environment and adhere to rules while improving the efficiency of aircraft engines and is working on the idea of zero-fuel aircraft from both the civil and commercial perspectives.
According to three models recently unveiled by Airbus, the first commercial hydrogen aircraft with zero emissions might be in service by 2035. Each of them explores alternative paths and aerodynamic configurations to achieve zero-emission flight to promote their objectives of being the first to decarbonize the whole gliding industry.
Autonomous Flight Systems
A developing trend in many industries, including the aircraft sector, is adopting autonomous technologies. Everything from spacecraft to drones will be autonomous in the future, with the ultimate goal of starting entirely human-free missions.
The aerospace sector is now using automation to increase worker productivity and repeatedly reduce the need to perform boring and backfilling jobs.
Automation will also help lower workplace accidents w.r.t dangerous tasks and maintain production deadlines.
Artificial Intelligence
The use of machine learning in research and education and artificial intelligence are all beneficial to the aerospace technology sector. By using artificial intelligence to find new patterns and relationships in the data, machine learning offers the chance to learn new things about the subject matter.
For example, researchers at the United States Air Force Research Laboratory (AFRL) are employing machine learning, AI, and autonomous systems to exponentially enhance the pace of materials discovery and lower the cost of technology to develop the next generation of technology.
Stronger And Lighter Materials
The aerospace industry is increasingly focusing on weight reduction and wind resistance and making airplanes "greener."
Aeroplanes are made lighter and more fuel-efficient by using graphene and carbon nanotubes. It is anticipated that advancements in creating sophisticated materials will focus on integrating features, including energy harvesting, concealment, structural support, and self-health monitoring.
Another emerging trend in the aerospace sector is additive manufacturing. The aerospace industry can benefit from additive manufacturing's ability to produce more than just lighter parts.
Although additive manufacturing makes the supply chain more efficient, the biggest issue with additive manufacturing, aside from certification, is that it calls for a high degree of skill that is still difficult to come by.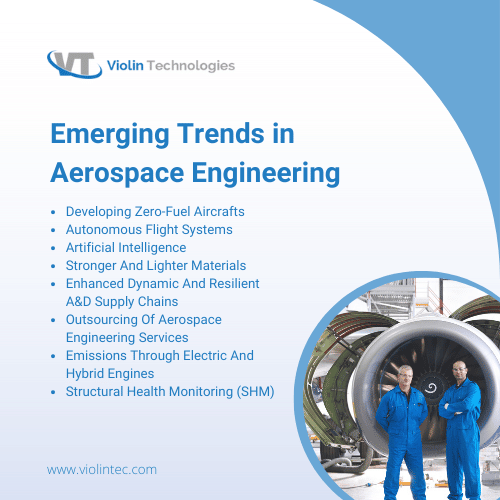 Enhanced Dynamic And Resilient A&D Supply Chains
Numerous crucial aerospace and military (A&D) supply chains collapsed as a result of the pandemic's impact on reduced demand for aeroplanes and limitations on the movement of people and cargo. Smaller suppliers have been impacted by this, particularly those exposed to commercial aircraft and the aftermarket industry.
OEMs and suppliers should use digital technologies, such as automating internal processes and optimizing workflows, installing smart management systems, and utilizing data analytics to enhance supply chains further.
Outsourcing Of Aerospace Engineering Services
Outsourcing services are growing in popularity in the industry, especially for aeronautical engineering. Engineers can spend less time and money outsourcing to companies like Violintec(AS9100D QMS standards), and the services are affordable and flexible.
The aerospace sector is both highly regulated and high-risk, and even little errors can potentially delay the firm by weeks and cost money. Outsourcing aeronautical engineering services is the most effective strategy to increase component quality, shorten manufacturing cycles, and lower errors.
Emissions Through Electric And Hybrid Engines
Aircraft engines need to give more output and power while absorbing less fuel, less noise production, and releasing fewer emissions. The aerospace industry is increasing the productivity of combustion engines while also exploring electric and hybrid propulsion systems.
Structural Health Monitoring (SHM)
In Astronomical Engineering, the SHM involves observing and researching a system over time using recurrently sampled response measurements to monitor changes to the material and congruent properties of engineering structures such as bridges, buildings, and airplanes. Aircraft accidents involving catastrophic fatigue failure have the possibility of significant loss of life, which creates a revolution in this branch of the aerospace industry.
Conclusion
Violintec creates products for the aviation, space, and defense industries that adhere to AS9100D QMS standards .
Violintec has supplied aerospace and defense components for some of the most cutting-edge systems in the world. They accept new challenges and provide aerospace & defense clients with services that meet high standards. Violintec is also into manufacturing Wiring harnesses; Precision machined components, custom cable manufacturing, and more. They continue to provide customers with high-quality items that meet certification standards.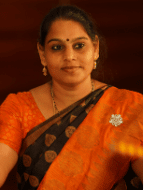 About the Author
P Geetha Pyari from the city of destiny, Visakhapatnam. She is a computer graduate and very passionate about writing. She spends her free time fulfilling and relaxing pursuits such as cooking, reading, knitting, and reading blogs. She is a very personalized writer who enjoys connecting with people. She likes to put in her thoughts and experiences in a generalized way. She enjoys elaborating on minor details with a plethora of information. A few months ago, she was fascinated with content writing. She wanted to explore more about it, to exercise her skills. Kloud Portal gave her a great platform to showcase her talents and improve her expertise.