Wire harness covers and wraps are vital components that protect wiring systems from external factors, such as extra layers of dust, moisture, and heat, ensuring safe and efficient operation. Selecting the appropriate automotive harness cover or wrap can be challenging with various options.
What we cover in this blog?
The Perfect Wire Harness Covers And Wraps
A cable harness is a collection of electrical wires or cables grouped to transmit electrical power or signals. They may be called as wire harnesses, wiring assembly, cable assembly, or wiring looms. Understanding the differences between wire harnesses, covers, and wraps is critical to choosing the appropriate one for your application.
Violin Technologies provides industrial hoses and cable assemblies for various industries, such as defense, heavy equipment, and medicine. They use advanced equipment and a skilled workforce to deliver high-quality products to their customers. Their wire harness and cable bundle products protect from external elements, high temperatures, and electrical power or signals transmitting. They are the best contract manufacturers in the business.
This article will discuss the best wire harness covers and wraps and guide you in selecting the most suitable option.
1. Material
A wire harness cover or a corrugated flexible conduit is the most critical factor to consider when catering to your requirement. It must be robust enough to withstand abrasion, puncture, or use damage.
Nylon is a flexible and sturdy material that offers excellent thermal protection, puncture, and abrasion. It is also resistant to chemicals and ultraviolet rays, making it an ideal choice for outdoor applications.
Polyester is a durable material that can withstand high temperatures and resist chemicals and ultraviolet rays.
Polyethylene is a lightweight, flexible material with excellent moisture, chemical, and wear resistance. At the same time, polypropylene is durable, flexible, has a high melting point, and resists chemicals, abrasion, and moisture.
2. Size
The wiring harness cover or cable wrap size should fit comfortably without being too loose or tight, as a loose cover may not protect the wires adequately. In contrast, a tight cover may damage the wires or affect the wiring system's performance.
3. Temperature range
When choosing a wire harness cover or a cable wrap, ensure that it withstands the wide temperature range of the environment where it will be used. If the cover or wrap cannot withstand the high temperature, it may degrade, crack or melt, leading to a failure of the wiring system. It must also endure low temperatures depending on the specific application and requirements.
4. Chemical resistance
High chemical resistance is another critical parameter when choosing a wire harness cover or wrap. The cover or wrap should withstand chemical exposure without degrading or becoming brittle. Chemicals such as oils, solvents, and acids can cause the cover or wrap to degrade, leading to a failure of the wiring system.
5. Abrasion resistance
Another vital aspect to consider when choosing a wiring harness cover or wrap is abrasion resistance. The cover or wrap should withstand abrasion from external elements such as dirt, rocks, and other debris that may come into contact with the wiring system. If the cover or wrap is not abrasion-resistant, it may wear out quickly, leading to a failure of the wiring harness.
6. UV resistance
While choosing automotive wiring harnesses or cable wraps, you must ensure that they withstand exposure to UV rays without degrading them or making them brittle. If the cover or wrap is not UV resistant, it may crack or become brittle, leading to a failure of the wiring system.
7. Flexibility
Flexibility is another crucial factor when choosing a wire harness cover or wrap. The cover or wrap should be highly flexible enough to fit the wiring harness comfortably without being too loose or too tight. If the cover or wrap is not flexible enough, it may damage the wires or affect the overall performance of the wiring system. Choosing the best wire harness manufacturers can guide you in selecting the best wraps and covers.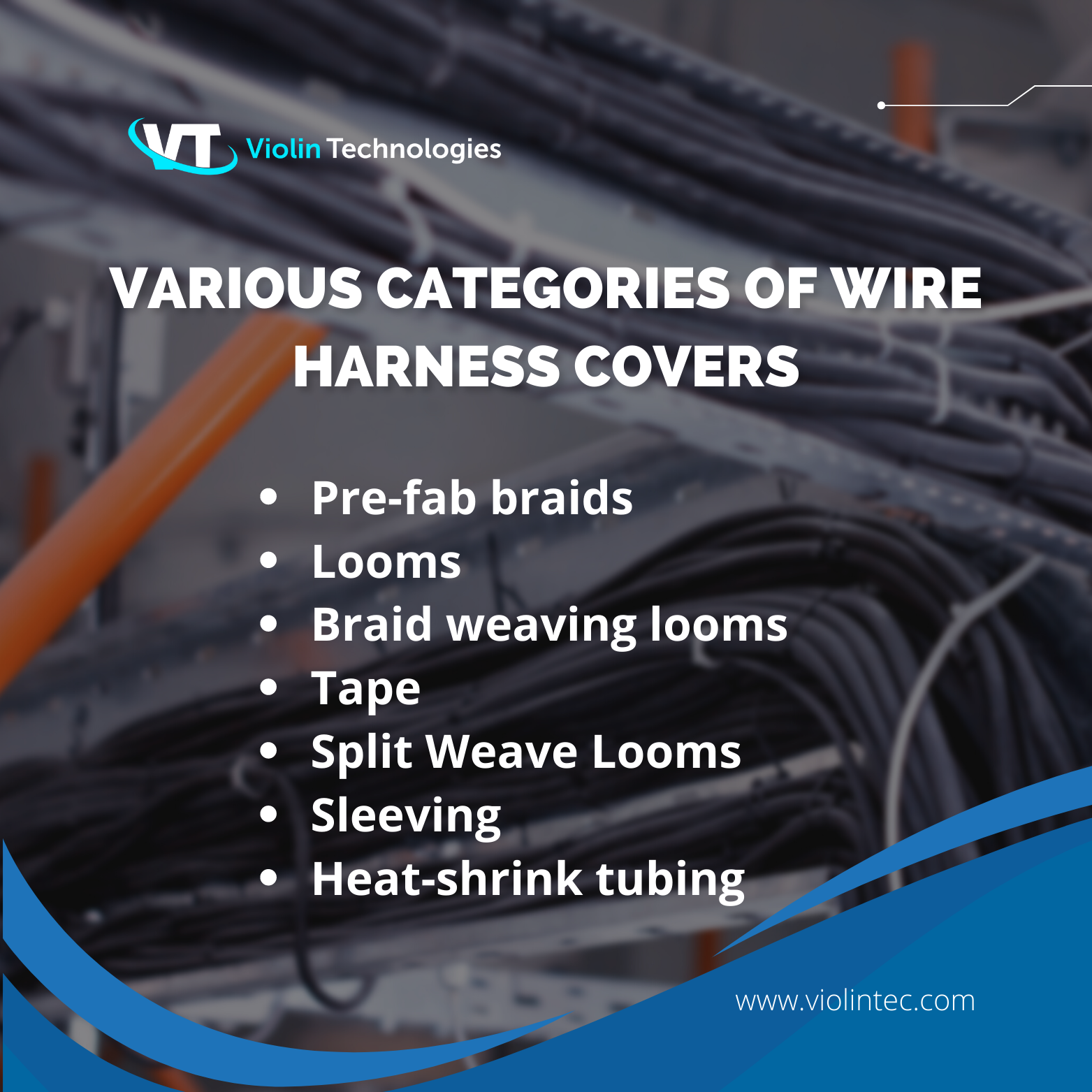 Various Categories Of Wire Harness Covers
Pre-fab braids
Pre-fab braids made from materials like nylon, polyester monofilament, or polyethylene are popular wire and cable covering choices in the automotive industry due to their lightweight design, flexibility, durability, and ability to resist heat. The most commonly used materials in wire harness covers and wraps are nylon, polyester, polyethylene, and polypropylene.
Looms
You can find looms in split or corrugated tubing designs, typically made of polypropylene, polyamide, or polyethylene. Tees are used to cover splits, and looms are suitable for Motor peripherals due to their slit design.
Braid weaving looms
Braid weaving looms are created by braiding woven polyester monofilament using a loom to form a strong, heat-resistant covering. They provide excellent harness protection in heavy equipment but are inflexible and cannot be fixed on-site. Violin Technologies are pioneers in the wire harness manufacturers list.
Tape
Tape installation is a suitable solution for covering areas between sleeves and other cable harness covers, despite being time-consuming. It encapsulates wire bundles, provides excellent protection, and is easy access to install due to its small size. Different hot melt adhesive or self-vulcanizing tape options are available to meet different application requirements.
Split Weave Looms
Split weave looms are commonly used in automotive applications and have a split on the side that makes wire and cable wrapping simple. They are typically made of polyethylene, polyamide, or polypropylene and do not compress wires.
Sleeving
Sleeving is a cable or wire covering commonly made of braided self-closed wrap fiberglass or polyester. Fiberglass sleeving is high voltage resistance and offers good electrical performance, making it an excellent choice for applications that require these properties. Conversely, polyester sleeving is recognized for its effortless installation and dismantling, remarkable durability against wear, and unrestricted flexibility in every direction. Although fiberglass braided sleeve can be more challenging, it is typically sealed using heat to secure the ends.
Heat-shrink tubing
Heat-shrink tubing covers cables and wires with plastic tubes that can be shrunk using a heat gun or blow torch resulting in a tight, protective covering around the wires. The most commonly used material for heat-shrink tubing is polyolefin, which is known for its durability, flexibility, resistance to chemicals, prevent electromagnetic interference, and very high temperatures UV resistance.
In addition to colored tubing, clear tubing is also available. It is a good choice for providing electrical insulation and physical properties protection while adding an attractive appearance to wire assemblies. Heat-shrink tubing is widely used in automotive, electrical signals, cable TV, and wireless telecom industries.
Bottomline
It is important to take certain measures to maximize the lifespan of your cables and wires. It is crucial to use wire and cable harness covers. The electrical systems can function properly by keeping the cables and wires secure.
Regardless of your industry or application, Violin Technologies is one of the best wire harness manufacturers in India, providing comprehensive solutions for all your wiring harness-covering needs. Our extensive wire and cable wraps and covers offer optimal protection for your wiring assemblies and cable harnesses. Contact us to ensure the best for your businesses.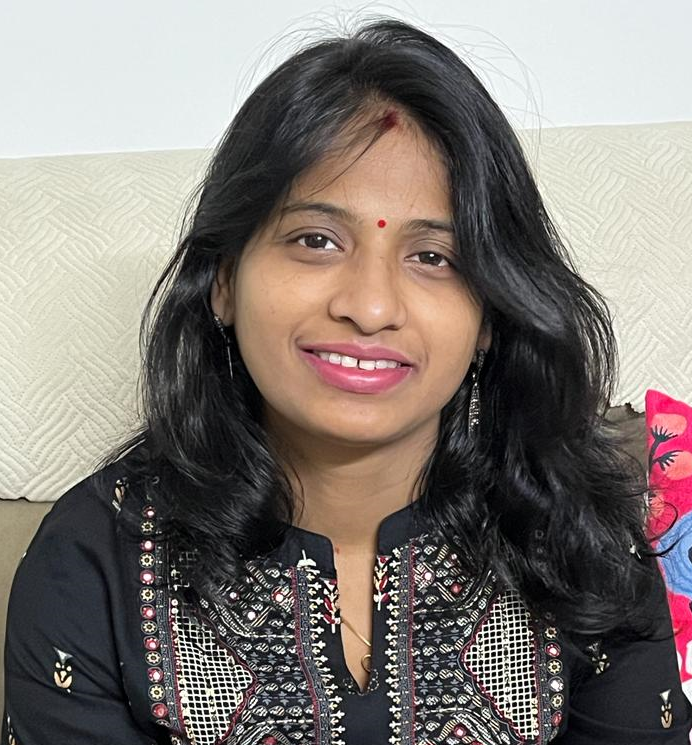 About the Author
Meet Rasmita Patro, a content writer, a former teacher, and a former HR with a passion for storytelling, creating compelling content that engages and informs readers. She has a Master's in Economics and an MBA degree in Human Resources. Her expertise spans a variety of industries, including finance, healthcare, technology, and others. She has a particular inclination toward crafting blog posts, articles, and social media content that resonates with the target audience. She loves reading different genres of books, love to experiment with cooking, and listening to soothing music.