We all interact and use electronic gadgets daily, but are you aware that electromechanical assembly is the beautiful process behind these devices? You are reading this because of your vested interest in the subject of electronics. You are enthusiastic to learn the process that sees the production of such devices daily that we use.
Electromechanical assembly implements a combination of mechanical and electrical properties during the production of electrical devices. Experts say that in 2027 the global PCB market will hit approximately $107.3 billion, along with a 4% CAGR during 2021-2027. It indicates that the requirement and demand for electromechanical assembly services will increase. Isn't it cool?.
What Is Electromechanical Assembly?
Electromechanical assembly combines electronic and mechanical components to generate new products – powered by electricity. It means an electromechanical assembly process can integrate multiple functions into a single unit.
The primary step is to design the mechanical components in the correct configuration. It could include fixing fasteners required to connect other parts and combining all the cables and wires to ensure proper functionality. Once done, other electrical and mechanical components are added.
Take the example of a motorized door opener combining electric sensors, gears, and motors to open and close the door automatically. It improves overall efficiency and saves up time.
Quality Assurance In Electromechanical Assembly
Quality assurance is an important part of the electromechanical assembly, as the testing and inspections are conducted during the assembly process to check if the final product meets the required needs and specifications. These may include measurement of electrical characteristics, functional testing, and visual inspections.
In recent years, smaller, faster, and energy-efficient electromechanical assemblies had an increasing demand. Due to technological advancements, micro-electromechanical systems (MEMS) were introduced. Developing more capable and sophisticated assemblies working in extreme environments is not impossible.
The electromechanical assembly manufacturers in India provides the best quality testing services.
Automatic Or Manual?
Several methods in manual operations are used for electromechanical assembly processes. Contrasting to automatic assembly, which needs large-scale integration of components, manual assembly is a traditional method that involves assembling components using hand tools. In automated assembly, machines install integrated circuits within single and standalone entities. The critical part of manual assembly is properly selecting components and assembly operations tools.
In a manual process, every step is carried out by an operator who assembles all the parts in a sequence that doesn't need a computer-assisted step, contrasting to automated processes that use vision systems to detect errors at every step. Appropriate selection of tools, clear instructions, and proper working environment ensure correct assembly and quality assurance.
Strategies To Solve Electromechanical Assembly Problems
Electromechanical devices play various parts in several devices. Their assemblies can comprise significant and unique manufacturing challenges, requiring high precision, consistency, and accuracy levels.
1. Developing a reliability testing process
Effective reliability testing is necessary for electromechanical device assemblers. A product that doesn't function properly can make the rest of your manufacturing process valueless. Testing is important for all electronic devices.
Effective test strategies leverage a mix of manufacturing and validation testing. Validation testing assures the satisfaction of client needs, especially through environmental testing, endurance, durability, and reliability testing. Manufacturing testing allows a final quality assurance of devices before being shipped to the clients.
2. Tolerance
A robust tolerating optimization process can guarantee that the end product satisfies the client's needs and fits a diverse range of operating conditions. Computer-aided engineering and tools such as CAD and CAE can streamline design and analysis, reducing the time to complete product design. It also helps prevent tolerance problems and flaws that appear only during manufacturing.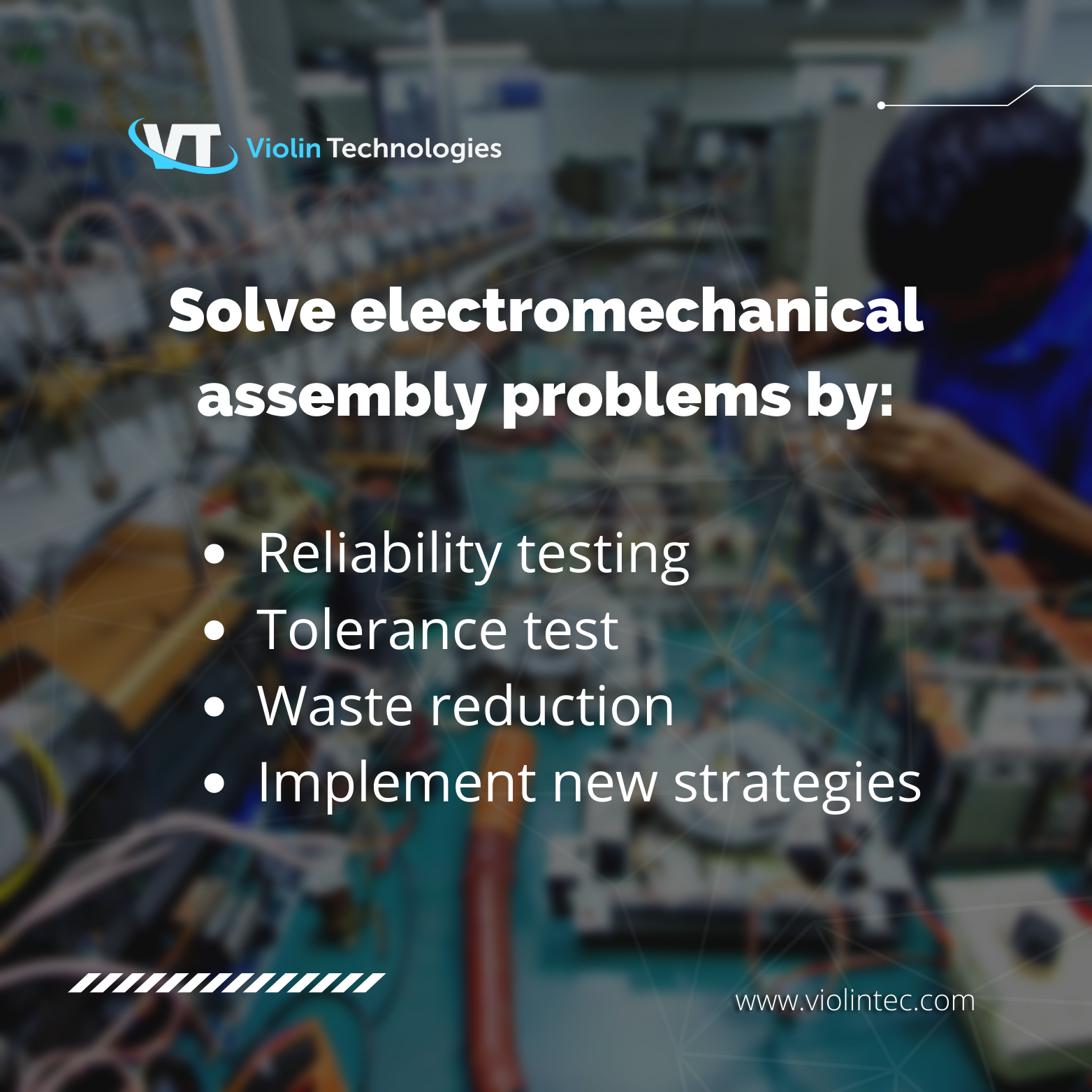 3. Reduction Of Wastage
Wastage is a major issue across the industrial industries that produce electromechanical assemblies and electronic devices. Although, manufacturers greatly benefit from a low-waste, lean approach that minimizes resource consumption, avoids revisions, and improves lead times.
Less waste drastically reduces assembly costs and provides greater flexibility to clients as the organization works and utilizes the existing resources. Manufacturing and lead times on product design can substantially improve due to fewer revisions and reworks.
4. Implementation Of New Strategies
Serious problems in electromechanical device design and assembly can be solved by implementing the right manufacturing strategies. Using CAE tools, effective testing, inspection rooms, and lean methods can downsize a few risks and uncertainty in electromechanical assembly. Leveraging such strategies helps manufacturers avoid pitfalls and assure quality standards.
Violin Technologies are one of India's renowned and Best Wire harness manufacturers that provide reliability tests and burn-in test of complex assemblies and sensitive components like circuit boards and sensors with reliability and the highest precision.
Flexibility And Customization In electromechanical Assembly Services
A major benefit of partnering with a contract manufacturer is the flexibility and customization they offer. They offer services to satisfy your project needs and requirements and adjust as needed. This adaptability is critical with electromechanical assemblies, as it helps you respond quickly to changes in market challenges or growing customer needs.
Let us know how to understand the electromechanical assembly services for your upcoming project!
Analyzing your project requirement is a crucial step which could include outlining the project specifications, quality standards, technical requirements, and production volume.
Searching for your potential partners or looking for experienced Electromechanical Assemblies and Box build manufacturers in your industry standards who provide good services is an acceleration factor.
Acquire detailed proposals and quotes from partners to compare associated costs, timelines, and other important factors.
Evaluating communication is an important step. An effective communication system with your potential partners is essential for successful collaboration.
Conclusion
As the world evolves in this industry, emerging trends and technological advancements constantly redefine the landscape of this industry. Violin Technologies is one the Electromechanical assembly manufacturers that is committed to their practical execution in all areas. Our competent and regularly trained staff strictly monitors the quality of each manufactured system or subsystem. Only once the examination is complete, the module or gadget is assembled.
Thanks to fully digitalized production processes, we guarantee optimum process dependability and cutting-edge quality. As a result, we can track back variations without gaps and identify faults and dangers more promptly. However, it also enables us to ensure the traceability of all materials and parts used.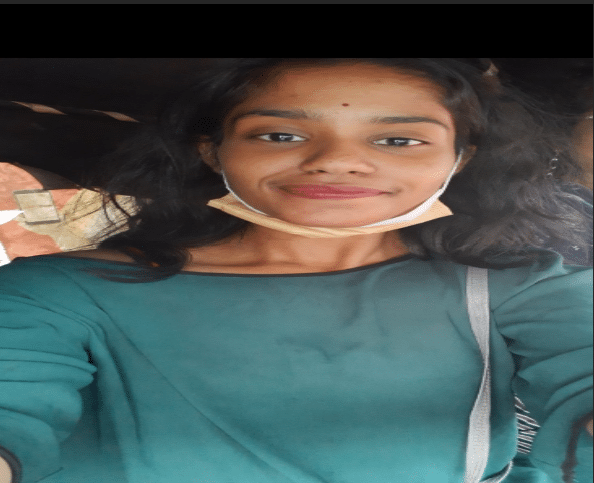 About the Author
Amulya Sukrutha, passionate computer science engineer specialized in Data science field. I also describe myself as a enthusiastic strength and endurance trainee. I have played professional Tennis during my early years and found my path in Software development and machine learning later. I'm also passionate about creating content, and learning about new technologies.