In the world of business-to-business sales, several acronyms play a vital role in developing the manufacturing, production, and distribution dynamics. OEM, EMS, CEM, ODM, and CMO are a few of these abbreviations. Each acronym represents a distinct business model, and understanding them is essential for companies in various industries. Let's explore the meanings of these terms and delve into why they matter in the context of the sales and manufacturing landscape.
OEM: Original Equipment Manufacturer
What does OEM mean in buying?
An OEM stands for Original Equipment Manufacturer; it refers to a company that manufactures products or components that are used in another company's finished product. In the context of buying, OEM (Original Equipment Manufacturer) often implies purchasing components or products directly from the manufacturer rather than from a reseller. It can be advantageous for businesses as it allows them to source parts at a more competitive price.
OEM Parts:
OEM parts represent authentic components manufactured by the original equipment manufacturer. They are meticulously crafted to meet the precise specifications of the equipment they are intended for. When you opt for OEM parts during a purchase, you can anticipate superior standards, seamless compatibility, and enhanced reliability.
Aftermarket Parts:
In contrast to OEM parts, aftermarket parts are manufactured by third-party manufacturers and designed to fit a broader range of equipment. They are often considered a cost-effective alternative but might not offer the same level of quality and precision as OEM parts.
Replacement Parts:
Replacement parts refer to factors used to replace faulty or worn-out parts in equipment. This term can encompass both original equipment manufacturer and aftermarket factors, and the choice between the two depends on aspects such as cost, quality, and availability.
Contract Manufacturing Companies in Chennai offer diverse outsourcing services to firms looking to optimize their production processes. These companies are well-equipped to handle various manufacturing needs and provide cost-effective solutions to their clients.
EMS: Electronic Manufacturing Services
What does EMS stand for?
EMS stands for "Electronic Manufacturing Services." EMS companies are vital players in the electronic industry. They specialize in providing a range of manufacturing aids, including the assembly and testing of electronic parts and products. EMS companies often work closely with OEMs, as well as original design manufacturers (ODMs) and other stakeholders in the supply chain.
EMS companies offer a comprehensive suite of maintenance, from design and prototyping to the production of electronic parts and computer software. Their role in the industry includes manufacturing printed circuit boards (PCBs), assembling electronic parts, and providing quality control and testing services. EMS companies serve a diverse clientele within the electronic sector, ranging from OEMs and ODMs to value-added resellers.
CEM: Contract Electronics Manufacturer
What is a CEM company?
A CEM, or "Contract Electronics Manufacturer," is a company that excels in the manufacturing of electronic products on a contract basis. CEMs are a subset of EMS companies but focus primarily on the assembly and production of electronic devices. Unlike OEMs, they do not design or produce individual parts but are involved in the complete assembly of electronic products based on the designs provided by their clients.
CEM companies play a vital role in the electrical technology industry, offering cost-effective manufacturing solutions for various electronic products, from consumer electrical technology like smartphones and computers to industrial equipment. They are a critical link between OEMs and the production of finished electronic goods.
Contract Manufacturers offer businesses the advantage of outsourcing production processes like specialized experts, streamlining operations, and cost reduction.
ODM: Original Design Manufacturer
What does ODM mean?
ODM stands for "Original Design Manufacturer". ODM companies are involved in the entire product development process, from conceptualizing and designing to manufacturing and often branding products. Unlike OEMs, which focus on producing specific components, the ODM (original design manufacturer) takes responsibility for the entire new product and its design.
ODM products are usually sold under the brand names of other organizations. For example, a well-known technology brand may work with an ODM to design and manufacture their smartphones. ODMs offer a turnkey solution, handling everything from product development and prototyping to production and packaging. They provide organizations with a shortcut to invention and product development without having to invest heavily in research and growth.
Custom Cable Manufacturers are experts in designing and producing personalized cable solutions for a myriad of computer software. Their proficiency in this field ensures that businesses receive tailor-made cable products that precisely meet their unique specifications and requirements.
CMO: Chief Marketing Officer
A Chief Marketing Officer (CMO) is the corporate leader in charge of a company's marketing initiatives. The major role of the CMO is to produce income by growing sales through brand management, marketing communications, market research, product marketing, distribution channel management, pricing, and customer service. They have the following responsibilities:
Strategic Sourcing: The CMO identifies reliable suppliers and sources of materials and equipment to meet project requirements.
Quality Control: Ensuring that all materials meet quality standards and specifications is a critical part of the role.
Supply Chain Management: CMOs manage the supply chain to ensure that materials are available when and where they are needed for projects.
Cost Management: They work to minimize costs while maintaining the quality and availability of materials.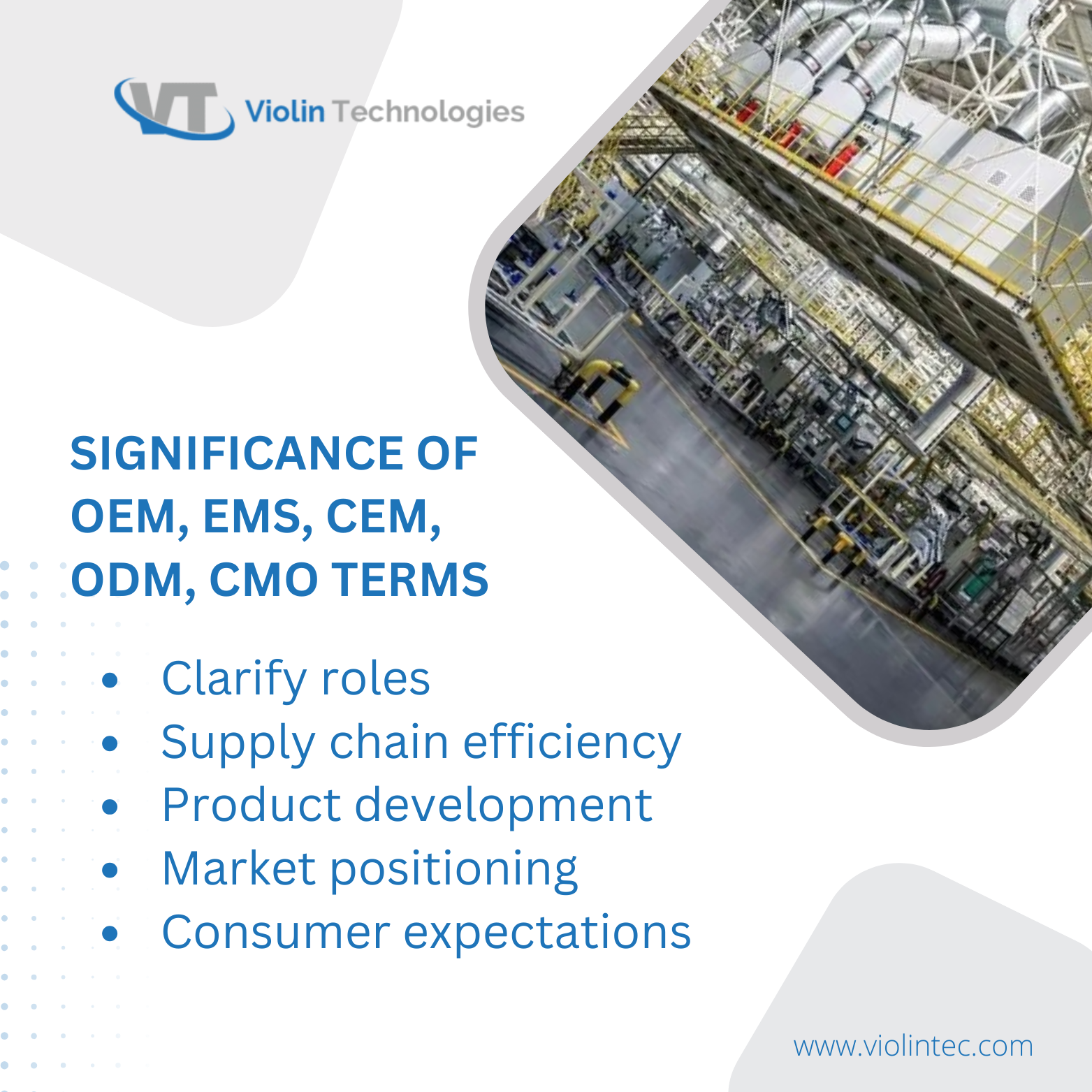 Why Do These Terms Matter?
These terms matter in the business world for several reasons:
Clarifying Roles and Responsibilities: Understanding these terms helps clarify the roles and responsibilities of a wide range of players in the supply chain. OEMs, EMS, CEMs, ODMs, and CMOs have distinct functions that are critical for the smooth operation of sales and manufacturing.
Supply Chain Efficiency: These terms help businesses navigate the supply chain more efficiently. Businesses can choose the right partners based on their specific needs, whether it's obtaining high-quality components from OEMs, assembling electronic products with the help of EMS or CEM companies, or rapidly developing new products through ODMs.
Innovation and Product Development: The distinction between OEMs, ODMs, and CEMs plays a pivotal role in the creativity and product development process. ODMs, for example, enable businesses to bring new products to market faster by handling the entire product development cycle.
Market Positioning and Branding: Understanding these terms is also crucial for promotion and branding. Businesses need to know how products are developed and who is involved in the manufacturing process to convey value to their customers accurately.
Consumer Expectations: For end users and consumers, understanding these terms can provide insights into the quality, origin, and value of the products they buy. Knowledge of OEMs, EMS, CEMs, and ODMs can influence purchase decisions, especially in industries where component quality and brand reputation matter.
The Best Wire harness manufacturers in India are known for their exceptional quality and reliability. Their wire harness solutions serve a wide range of industries, making them a top choice for businesses seeking high-quality electrical components.
Conclusion
In the world of B2B selling, the distinctions between OEMs, EMS, CEMs, ODMs, and CMOs are vital for businesses to navigate the complexities of the supply chain, make informed decisions, and meet customer expectations. These terms represent different aspects of manufacturing, product development, and advertising that collectively shape the business landscape. Understanding and utilizing these can lead to improved product quality, faster invention, and a competitive edge in the market. Whether you're a manufacturer, a selling executive, or a consumer, knowing these terms can help you make more informed decisions and contribute to the success of your business.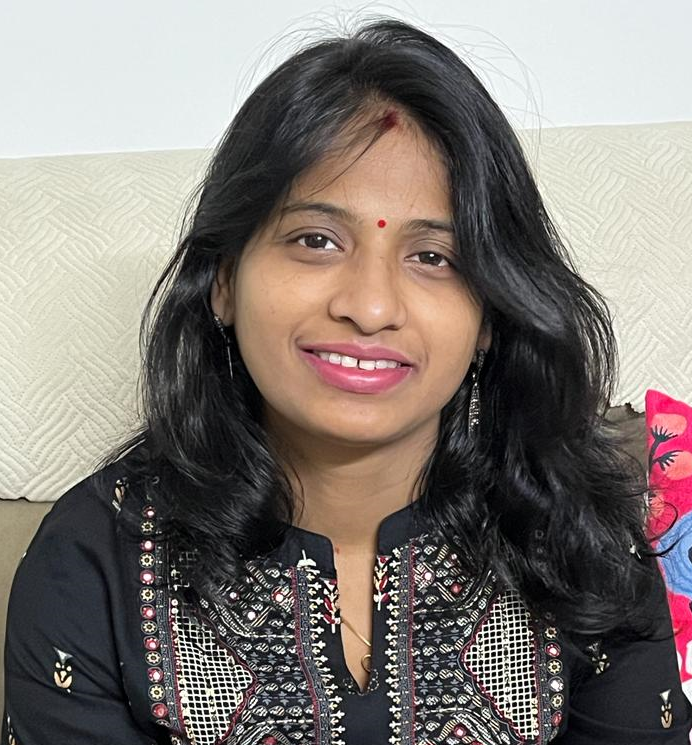 About the Author
Meet Rasmita Patro, a content writer, a former teacher, and a former HR with a passion for storytelling, creating compelling content that engages and informs readers. She has a Master's in Economics and an MBA degree in Human Resources. Her expertise spans a variety of industries, including finance, healthcare, technology, and others. She has a particular inclination toward crafting blog posts, articles, and social media content that resonates with the target audience. She loves reading different genres of books, love to experiment with cooking, and listening to soothing music.