Every business focuses on its growth. A few years after you start your business, it feels great to find yourself far ahead of where you started. It is all visible with more orders flowing in, the need to invest more, and the chance to gain more profit, more employees whom you hire, and more resources that you procure. It is the way it begins with one individual, expands to a team, and grows even further. And then, the question that comes up is whether you need a contract manufacturer.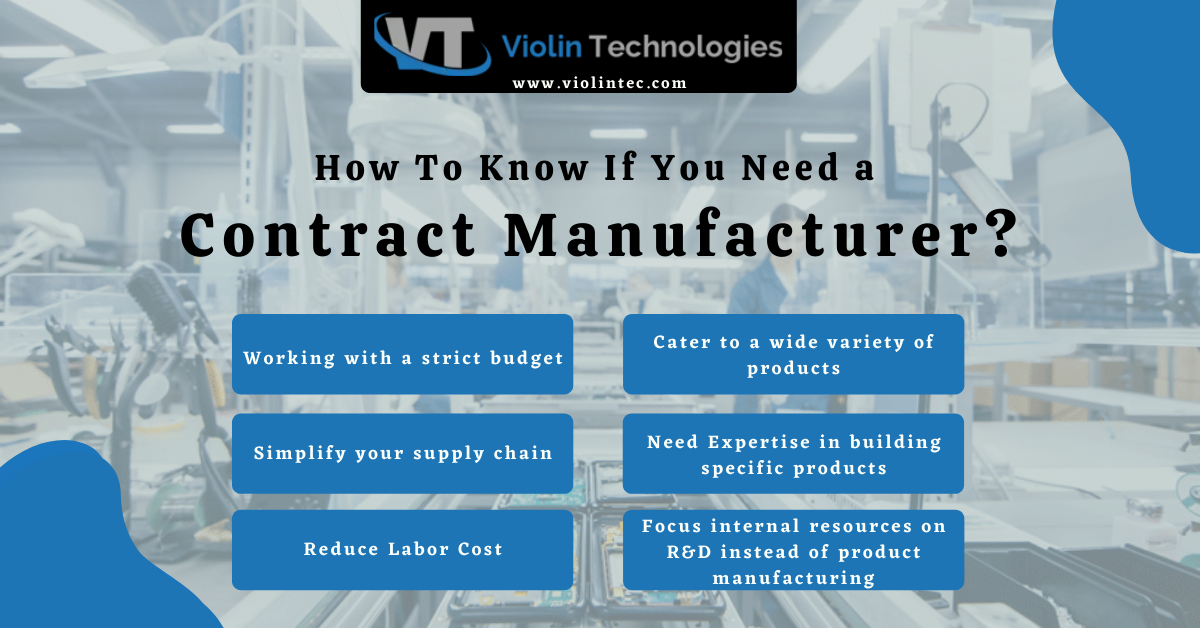 Working with a strict budget
Manufacturing is a process that requires setting up an infrastructure that may not necessarily suit your budget. When you pick the right contract manufacturers, you notice that your business has saved on the manufacturing costs. When the contract manufacturer supplies the essentials you require, it reduces the cost. Hence it is a wise choice to make when you work with a strict budget.
Simplify your supply chain
The essential steps in supply chain management can be summarized as follows:
Raw material manufacturing -> Production -> Marketing -> Operations -> Product distribution -> finance management -> Customer care
When you find the need to streamline the supply chain, you would want to eliminate a few tasks that consume your time and effort. With the contract manufacturers taking over the first step, your supply chain management becomes simplified.

Reduce Labor Cost


At times, the demand is such that the labor cost is massive in comparison to the estimated output. That makes the whole process non-cost-effective. The demand could be fluctuating as well, making you look for temporary resources. It is non-profitable to start right from the production of raw material. It makes you identify how contracting out could reduce the labor cost and make your job more economical overall.

Cater to a wide variety of products
Wire harnesses and cable assemblies find their application in many industries today. They are used in scientific instruments, medical equipment, electronics gadgets, electrical power supply to buildings, automobiles, construction machinery, and a lot more. With different reasons to produce a wire harness each time, contract manufacturers are versatile to cater to a variety of products. It is a skill that individual businesses could lack.
Need Expertise in building specific products
Not all cable assemblies or wire harnesses are alike. The specifications of wire harnesses are different for each application. Manufacturing products requires an eye for detail and accuracy, and these are skills that people dedicated to the job could master over time. By allotting contract manufacturers to take care of your requirements, you could avail of their knowledge in the field.
Focus internal resources on R&D instead of product manufacturing


Apart from manufacturing, every business needs to focus on all aspects, like changes in product design, marketing, customer service, and more. It helps the business to stay in tune with market trends. A lot of brainstorming and testing helps to bring out the desired results. When your internal resources are occupied in production, your other business activities take a hit. By sub-contracting the manufacturing task, your internal resources can better focus on R&D for better promoting your business.
We are Here to Help!
Are you in search of the best contract manufacturers to supply you with the wiring essentials? With Violin Technology Solutions available at your service, you can be assured of the best quality material that goes into your products. Cable assemblies, electromechanical components, stamped parts, and more, you could find them all under a single roof. Stop by www.violintec.com to meet your business requirements.