What Is Contract Manufacturing?
A contract manufacturing arrangement is one in which one firm (the contracting company) outsources some or all of its manufacturing activities to another company (the contracting company).
The contract manufacturer creates the components or goods according to the contracting company's requirements, which are subsequently used to produce entire product assemblies or distributed under the contracting company's brand.
This form of manufacturing partnership is extremely advantageous to the contracting firm. They may concentrate on other attributes of their business (such as marketing, sales, and distribution) instead of spending time and resources on constructing and operating a manufacturing plant.
In addition, the contract manufacturer may provide them with access to industry expertise or sourcing networks that may assist them in enhancing the component quality and lower manufacturing costs.
Who Is An Electromechanical Assembly Contract Manufacturer?
An electromechanical assembly contract manufacturer is known to be the one that develops, assembles, manufactures, and tests electronic components and assemblies. Custom cable assemblies, electromechanical assembly, and wire harnesses are some examples. Although the skills of electronic contract manufacturers differ, collaborating with the right business may yield a high return on investment (ROI).
An electromechanical contract manufacturer may help Original Equipment Manufacturers (OEMs) in four main areas: design support, component procurement, production, and quality assurance.
Why Do You Need A Contract Manufacturing Partner?
In today's competitive market, the capacity of any equipment manufacturer to design and sustain new goods that correspond with what clients require while keeping an eye on the current trend market is critical.
Many manufacturers seek to outsource their non-core operations to stay competitive and maximize earnings. Of course, this may considerably improve efficiency by freeing up time and resources for key activities, allowing other areas of the operation to run smoothly.
When an OEM insists on keeping all elements of manufacturing in-house, costs rise owing to the need for specialized equipment, more trained workers, and, of course, more facility space. Companies may increase their bottom line and preserve a competitive edge by carefully outsourcing some high-cost, low-margin manufacturing components.
Electromechanical assembly is a vital component of the manufacturing process for many original equipment manufacturers, but is it work that should be outsourced?
Many manufacturers regard the creation of their electromechanical assemblies as a function that must be kept in-house, from printed circuit boards to complicated box structures.
Let us go through the benefits of choosing contract manufacturing partners for our electromechanical assemblies.
Minimize The Need For Specialist Equipment As Well As The Risk Of Technology Becoming Outdated

Electromechanical assembly procedures often require corporations to invest in cutting-edge technologies to ensure efficiency and speed, which are both costly and time-consuming. Companies can eliminate the requirement for new equipment and the related time and capital expenditures by outsourcing to a contract manufacturer that already has all of the specialized hand tools and fully automated machinery and is continually exploring and employing the newest technology.

Disseminate Resources

A company's resources may be concentrated on core capabilities and high-margin operations when the electromechanical assembly is outsourced to a professional contract manufacturing partner. It should lead to higher output without compromising quality or safety.

Decrease In Overheads.

Electromechanical assembly is a costly investment requiring specialized technology, a highly skilled and trained workforce, and additional assembly space. Outsourcing electromechanical assembly may save a lot of money, which is one of the main reasons many companies choose to outsource.

Enhanced Quality Control

The importance of quality control in electromechanical assembly operations cannot be overstated. For optimal operation, electromechanical assemblies need accuracy and precise tolerances. Highly qualified assembly experts, as well as professional testing processes, are provided by specialist contract businesses to verify that each component and the entire assembly component perform as intended.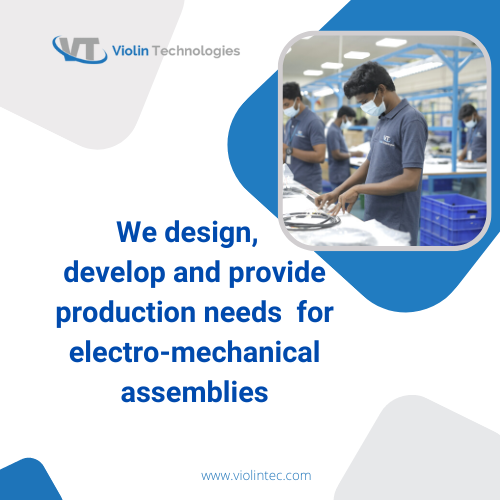 Four-Point Checklist For Selecting Contract Manufacturing Partner For Electromechanical Integration.
Choosing a contract manufacturing provider may be a time-consuming, difficult, and costly process. So, before deciding on a contract manufacturer, consider all important factors. The expense of doing it wrong might outweigh the benefits of contract manufacturing.
Here is a brief checklist to make before choosing the ideal contract manufacturing partner:
Assess Your Requirements

The first step in identifying a suitable electromechanical manufacturer is to comprehend your project's requirements, which should include these attributes:

Electromechanical Integration technology: do you need circuit layout, protective housing, or both?
Scale: not all vendors can handle the panel assembly size you need.
Delivery Timeline: What is your deadline for the complete assemblies?
Budget: how much total cost have you set aside for this project?
Regulatory Specifications: what safety and compliance certifications do your industry and equipment require?
Quantity: How much magnitude of each subset of the product will you need? Some manufacturers have a hefty minimum order quantity (MOQ), so be aware of your options ahead of time.
Additional Support: Do you require further assistance with testing and certifications?

Do Qualitative Research On Their Experience And Skillset

Once you've determined your requirements, curate a list for prospective electromechanical assembly and manufacturing partners. For every prospective electromechanical assembly manufacturing partner on your list, consider the following aspects:

How long has the contract manufacturing firm been in operation?
Is the manufacturer experienced in your industry?
What additional services does the business provide?
Which type(s) of technology have they operated before?
Which assembly sizes do they work with?
Is the electromechanical assembly partner equipped to do the job?
Does the supplier outsource the assembly?

Examine Quality Assurance and Testing Methods In Depth

The most crucial aspects of the finished result are product quality and regulatory compliance, so make sure your electromechanical assembly manufacturing company has the proper testing and control systems in place, such as: Quality Management System ISO 9001

This certification indicates that third-party audits have confirmed our quality system, which governs our services' design, development, production, delivery, and internal customer service procedures. Violin technologies have obtained the required certifications in compliance with market and safety standards.

Determine The Logistics Capabilities And Other Deliverables

Installing your custom-designed Integration services so you can tap into the market faster is critical to your success. Faster execution impacts many attributes of the business, such as;

Design Complexity

The more complicated the assembly, the longer it will take to execute the final product. It's worth noting that not every supplier has the skills or equipment to manage large-scale projects.

Quantity Management

If you have a tight deadline for bigger projects, running small batches of delivery might save you time. Check with your supplier to see if smaller runs are possible.

Location and Logistic Support

The facility's location is critical since it affects the communication, shipping, and overall delivery.
Conclusion
Once you have shortlisted the potential contract manufacturers, request quotes for the project, then compare how each candidate performs in each area that contributes to good electromechanical assembly.
Contact Violin Technologies to discuss your design, development, and production needs for electromechanical assembly contract manufacturing.
We are also glad to analyze your current electromechanical assemblies and sub-assemblies to see if we can assist you in saving both time as well as money!
Violin Technologies is an ISO 9001:2015 company with factories located in Chennai, India, and a warehouse in Wooddale, Illinois, USA. We provide end-to-end manufacturing/ supply chain partnerships. Click on to know more about us and contact us for further information.