Introduction
The era of smart people requires smarter buildings too!
We are entering a new world dimension when we talk about corporate buildings. It is no longer sufficient for companies to offer a location for us to sit at one desk and work.
Today, owing to technological advancements, it is viable for a building not only to provide all of the services that inhabitants require but also to do so while being as efficient as possible by being cost-effective and ozone friendly, thus completing the lifecycle of a building.
The balance required to maintain eco-friendly buildings is critical for businesses in the future.
Think no further!
The age of smart buildings is here.
What does 'Smart Buildings' mean?
In a layman's way,
Smart building means the ability of the objects to communicate with each other.
In a formal context,
A smart building employs technology to economically and effectively use resources while providing residents with a safe and healthy environment.
Smart buildings may utilize various existing technologies and are planned or modified so that future technological improvements may be integrated. Some mechanisms and robots utilized in a smart building to regulate and enhance its performance include:
Building Management Systems(BMS)
Internet of Things (IoT) sensors
Artificial Intelligence (AI) &
Augmented Reality (AR).
Features of Smart Building
People sometimes confuse intelligent homes with the luxury of architectural design. While most modern structures integrate cutting-edge designs with technology systems, a unique design is not required for a smart building.
In many cases, they are conventional structures, but they incorporate various technical elements and gadgets that improve the efficiency of their construction and consumption.
All of these can be achieved by finding the Perfect Manufacturing Partners for smart buildings.
To have better clarity, let us look at the features of Smart Building:
Connectivity:

Data and information must be available in real-time so that any user may access it. These smart solutions provide self-management and autonomy to attain the best possible resource balance.All in All, It is about connecting people with the smart building system.

Providing a Secure System:

Security is one of the major goals of these structures; their objective of lowering risks against theft, accidents, and catastrophes is done by installing various monitoring equipment that regulates activities such as intrusion or fire detection.

Sustainability:

Sustainable infrastructure refers to buildings built with more effective and efficient materials and systems, resulting in resource optimization.

Ease of access:

Providing accessibility for all persons, particularly those with limited mobility or infirmities, is emphasized.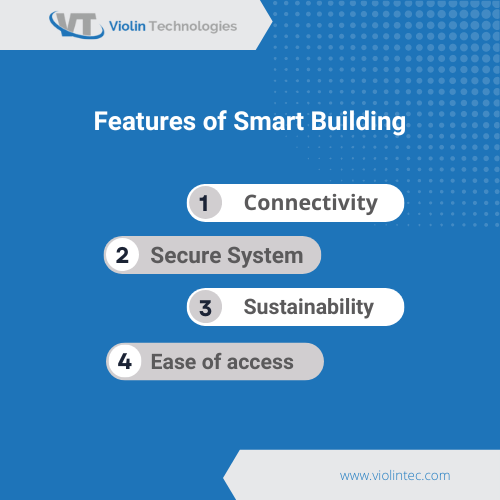 Building a smart solution for smarter buildings
Creating an autonomous structure is compelling if you understand the right technologies to be incorporated. These technologies are part of what the industry refers to as a smart building system and should be integrated to reap the benefits of imparting intelligence to a building:
Intelligent Sensors- Internet of Things (IoT)

Intelligent buildings require equipment that can communicate with one another via IoT technology and collect building data to optimize the behavior of all a building's resources automatically.These sensors are critical in the advanced building industry and other sectors that employ IoT technologies. As a result, its demand will continue to rise in the coming years.

Building Management System & Integration

Implementing smart building solutions needs proper tools and systems to manage their numerous assets and monitor their behavior to make the best decisions to optimize their performance.Let us understand in deeper context;

For Space Optimization, sensors play a crucial role in tracking and collecting data which helps us in the allocation of resources efficiently.

Similarly, Artificial Intelligence (AI) can detect unusual patterns, inform you when they are recognized, and it can assist you in determining whether an asset requires repair.

Hence, gathering accurate data from devices can give you a more realistic picture of how frequently a facility within your building is used.

It gives you a more proactive approach to managing wear and tear, cleaning and restocking, and extending the life of equipment, furnishings, and appliances.
Significance of Smart Materials
"Smart Materials," also known as 'Active materials,' 'Intelligent materials,' and 'Adaptive Materials' are those that can adapt to changes in their conditions or the environment they are exposed to in a meaningful and controlled manner.
The inputs such as Mechanical stress/strain, electrical/magnetic field, or variations in temperature, moisture, pH, and light can all induce changes in smart material characteristics.
Because of their unique qualities, they are a valuable aspect in many disciplines of engineering and technology.
Some of the types of smart materials include:
Magnetostrictive Materials

produce voltage when a magnetic/electric field is applied to them. They are typically used in medical devices, transformers, noise control systems and many other applications.

Shape Memory Alloys (SMAs)

can regain previously defined size and shape when thermal changes occur. Their longer durability and reliability are used for the seismic protection of buildings.

Electrorheological fluids

are colloidal suspensions that exhibit viscosity changes when exposed to an electric field. They are widely used in shock absorbers.
Smart Concrete
One of the applications of smart materials is smart concrete.
Smart concrete works by incorporating a tiny amount of short carbon fiber into the concrete using a standard concrete mixer to modulate the electrical resistance of the concrete in response to strain or stress.
Significantly, when the concrete is stretched or strained, the contact between the fiber and the cement matrix is influenced, impacting the volume and electrical resistivity of the concrete. The strain is then calculated by measuring the electrical resistance.
Smart concrete can detect extremely minute structural faults and so finds use in assessing the internal state of structures, primarily after an earthquake.
Advantages of Smart Buildings
Smart construction helps you to cease making conclusions based on assumptions and guessing. You can reap the following benefits by gathering precise data and implementing processes using technology:
Increasing efficiency:
By installing modern intelligent technologies in buildings, you can minimize power consumption while improving efficiency and sustainability.
For example, analyzing data to develop a new system, such as autonomously shutting down lights when no one is in the room.
Reduce operating costs:
Innovative architectural systems enable building maintenance costs to be reduced and resources that are paid for but not utilized to be identified.
For example, by powering employee desks with monitoring sensors to automatically identify when a desk becomes available, the system may show which desk is vacant if an employee does not show up to use the desk.
Not only does this help employees be more productive by eliminating the need to look for a suitable workplace, but it also paves the way for space optimization.
More control and information:
The data gathered helps us analyze and comprehend system functioning and detect defects and inefficiencies to provide a prompt response before they cause major issues.
It can also facilitate maintenance predictions and make us aware
of sudden unknown system failures.
Conclusion
Implementing smart technology can revolutionize the way your building operates while maximizing the throughput.
With Best Manufacturing partners' help for smarter solutions mentioned above, you maximize your Return On Investment.
Our platform employs IoT and BMS to help you build sustainable systems. It analyzes, assembles, and manages all by using a simple and easy interface.
Introducing Violin Technologies, a pioneering leader in the Top Building Manufacturing Partner and supply chains industry.
Violin Technologies is an ISO 9001:2015 company with factories located in Chennai, India, and a warehouse in Wooddale, Illinois, USA.
We augment our core competencies to assist you with sourcing various commodities, identifying quality suppliers, devising global logistics, and delivering the products.
For further information and queries, click here to contact us.